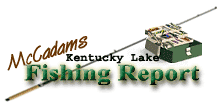 Brought to you by: Fishtale Lodge
Steve McCadams'
Kentucky Lake Fishing Report for:
October 10th, 2003
Fall fishing patterns are holding up well for bass and crappie anglers as pretty weather returned this week. Stable conditions with warm days and light winds replaced last week's cold front where brisk north winds had white caps dancing on Kentucky Lake.
Observed lake elevation is down from last week. TVA has been pulling water all week and lake levels in the Paris Landing and New Johnsonville area are in the 354.9 range.
Surface temperatures have cooled into the 64 to 66 degree range, thanks to some cool nights last week.
Watercolor is dingy on the Tennessee River but clear throughout most of the Big Sandy basin.
Crappie have been hitting good this week. However, there are a lot of small fish being caught that are just shy of the 10-inch minimum length limit.
Depths of 8 to 12 feet have produced a lot of crappie this week. Stakebeds, brush piles, and shallow stumps are holding a lot of fish but there's still a lot of fish on the main lake ledges in depths of 16 to 20 feet.
The fall lake levels have likely contributed to the deep-water venues, as crappie will often pull back to drop-offs or ledges when draw down occurs.
I found a lot of fish taking chartreuse jigs mixed with red metal flake. And, tipping with a minnow seemed to help in some cases. Fishing double hook rigs on the main lake ledges were also producing well when baited with live shiner minnows.
Lake levels are likely to stabilize this week, which will likely stimulate movement from deep to shallow areas for crappie.
Bass action is good with some of the larger smallmouth coming from ledge or points at the mouth of large bays along the Tennessee River. Some success has come from anglers working ledges with jig and pig combos, small hair jigs, Carolina rigs, and large crankbaits.
There's still a lot of fish shallow with gravel banks, exposed crappie beds, logs, roadbeds, and boathouses holding fish. Pitching a worm or lizard around boat docks has worked well, with Zoom's Brush Hog in the green-pumpkin pepper producing well, along with the red shad color.
Crankbaits such as Rapala's Shad-Rap in the silver and black back, along with Bandit's Tennessee Shad and Root Beer colors have worked well too. A few fish have been taken off jerk baits such as Smithwick's Rattling Rogue.
Surface action continues in the early morning and late afternoons if you find a gravel bank where the shad are jumping. The lowlight midge hatch attracts the small baitfish each morning and afternoon with some top water action.
Rebel's Pop-R, Storm's Chug-Bug, and various buzzbaits are accounting for some fast fun.
There are a few more weeks of good fall fishing ahead. With the lower lake levels be sure to use caution out there and follow the buoys to avoid shallow water hazards.
For The Lake Barkley Report
Click Here
Also check out our past:
Kentucky Lake Fishing Reports
Steve McCadams
Steve McCadams is one of the nation's best known Crappie fishermen and a full time resident of Paris Tennessee. Steve is also a professional hunting and fishing guide here in the Paris Landing area.