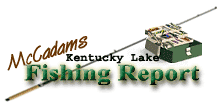 Brought to you by: Fishtale Lodge
Steve McCadams'
Kentucky Lake Fishing Report for:
October 8th, 2004
This week's fishing report is a good one for crappie anglers on Kentucky Lake. And, bass fishing has improved over last week too for many anglers.
Surface temperatures have cooled down to the 71 to 74 degree range across much of the reservoir due to some cold nights. Fog has greeted anglers on several mornings, thanks to a calm wind that made fore some nice topwater bass fishing action.
Lake elevation has been relatively stable this week. Last weekend the reservoir was falling slowly but TVA indicates elevation will be in the 355.1 range this weekend at Kentucky Dam and New Johnsonville.
Watercolor has cleared some throughout Big Sandy and West Sandy while some stain remained along the main Tennessee River channel.
The wind has been kind to anglers this week with several days of light and variable breezes. Anglers could fish anywhere they wanted to most days as placid waters replaced whitecaps for most of the week.
Crappie action has improved in shallow to midrange depths this week. A lot of fish have moved into the 6 to 12 foot zones where stumps and brush are found. Manmade fish attractors are producing a lot of fish too as stakebeds and brushpiles have been giving up several nice fish.
Jigs tipped with minnows have been working well. Chartreuse continues to be the color of choice but there are several other combinations that work too.
All the fish are not necessarily shallow as some dandy crappie are still hanging out on the deep sides of main lake ledges. Drop-offs with structure in the 16 to 20 foot zones have given up some fish this week too.
Most anglers are making a lot of stops or cover a lot of water as it's a "few here and there" type approach. There are some good stringers being taken but anglers are not staying in one place, as the fish don't seem to be concentrated.
Overall, the action has been good for fall crappie this week with some good weeks still ahead.
Bass action improved some over last week as several fish are chasing shad in the shallow flats and backwater bays. Some surface action was taking place when bass pushed baitfish up in shallow zones.
Rock banks and gravel points continue to give up some bass too as anglers toss shad colored crankbaits. Rattletraps and shallow running crankbaits have fooled several fish lately and some bass are running shad out in the open where shallow gravel bars are below.
There's still a lot of grass beds showing in the backs of bays where a spinnerbait, fluke, or topwater jerk bait will produce a strike or two.
Fall fishing awaits you. Don't fool around and let the cold weather catch you before you go fishing.
For The Lake Barkley Report
Click Here
Also check out our past:
Kentucky Lake Fishing Reports
Steve McCadams
Steve McCadams is one of the nation's best known Crappie Fishermen and a full time resident of Paris, Tennessee. Steve is also a professional hunting and fishing guide here in the Paris Landing area.