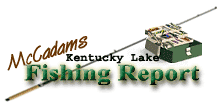 Brought to you by: Fishtale Lodge
Steve McCadams'
Kentucky Lake Fishing Report for:
October 7th, 2005
Kentucky Lake anglers have had a dose of both summer and fall in the same week.
Fall fishing is alive and well. It appears the cool spell now upon us has chased away summer but not before some near record high temperatures greeted anglers earlier this week.
Last weekís cool spell was short in duration but it had an impact on fishing as surface temperatures cooled some and several bass and crappie moved shallow.
However, falling lake levels teamed with hot weather and many crappie moved back out to make lake ledges for a few days. The fish always manage to keep me humble as my milk run of midrange stakebeds and brushpiles that produced well for a week or so seemed to slow down.
After a few unwelcomed greetings by the crappie I had to fall back to deeper ledges earlier in the week where fish hit pretty good in depths of 14 to 20 feet. Submerged stumps and brush on the drop-offs were giving up a lot of fish for a few days.
Thereís still a lot of small fish hitting but a few good ones are mixed in. Expect to measure a lot of fish, as a large portion is right on the threshold of the 10-inch minimum length limit.
With cooler weather returning look for an improvement in the shallow zones as fish return to that 6 to 12 foot depth range this next week.
Lake levels have pretty much stabilized this week, resting at the 355 mark across much of the reservoir. At New Johnsonville the projection is for 354.9 going into the weekend.
Surface temperatures climbed back to the 81 to 83 range at midweek but look for lower readings around the 76-78 degree range by this weekend.
Watercolor has been stained along the Tennessee River but quite clear throughout Big Sandy.
Bass action continues to hold up well for a lot of anglers working shallow water patterns. Several fish are taking an assortment of topwater lures ranging from buzzbaits to jerk baits such as Rebelís Pop-R and Stormís Chugg-bug.
Spinnerbaits around docks, shallow logs and stumps have produced too, as have shallow running shad colored crankbaits around grassbeds.
Some smallmouth are showing up as anglers toss jigs, crankbaits, and finesse baits around main lake points and rock bluffs.
Low lake levels are normal during the fall and winter months so be careful out there and pay attention to channel markers. Taking those shortcuts across open water will introduce you to hidden dangers.
For The Lake Barkley Report
Click Here
Also check out our past:
Kentucky Lake Fishing Reports
Steve McCadams
Steve McCadams is one of the nation's best known Crappie Fishermen and a full time resident of Paris, Tennessee. Steve is also a professional hunting and fishing guide here in the Paris Landing area.