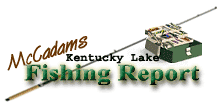 Brought to you by: Fishtale Lodge
Steve McCadams'
Kentucky Lake Fishing Report for:
October 5th, 2007
CRAPPIE ACTION HOLDING UP AS
BASS BITE SLOWS

How about this fall fishing weather?
Even with a bit of rain in the forecast odds are it wonít dampen the spirits of area anglers who have enjoyed stable lake levels and weather patterns for the last two weeks. Light winds have been kind to fall fishermen too.
Fall fishing continues to be a sleeper for the bulk of anglers who overlook the seasonís attributes. Not only is the weather nice but the lake isnít crowded, which just seems to make that fishing trip ever more enjoyable.
Kentucky Lake has been giving up some pretty good stringers of crappie this week as the fish make their fall transition from slow and sluggish moods in deep water to more aggressive bites in midrange structure.
Bass action fell off some last week and early this week as those bright sunny days seem slow down the shallow action that had been underway in a variety of patterns ranging from grassbeds to gravel banks.
Lake levels continue to linger around the 355.5 range at New Johnsonville. At Kentucky Dam readings were in the 355.6 range. Both areas have similar elevation to readings taken last week at this same time.
Surface temperatures didnít cool off much this week, staying in the 73 to 75 degree range. Several back to back days of temps climbing up in to the mid 80ís havenít released a persistent summer grip.
Still, some cooler nights have hung around and kept a lot of baitfish moving shallow in the early morning and late afternoon.
Water color is clear in the main lake but some slightly dingy in a few bays. Overall itís a good color for fishing.
Some rain and cooler weather are in the forecast for the weekend and early next week. That should see an increase in activity for shallow areas that have been victim of high skies and rising temperatures at midday.
Crappie action has been good in 9 to 13 foot depths where stakebeds and brushpiles are attracting fish. Some of the deeper structures have produced best but watch for fish to move up if some cloudy days enter the picture.
Thereís still a lot of fish in the 10-inch range being caught so keep the measuring device handy. Still, a few hefty fish are mixed in there too.
A few larger fish appear to be relating to main lake ledges in depths of 15 to 19 feet. Structure along the edge of the drop-off is holding fish as anglers work both live minnows and jigs with success.
I found good numbers of fish on deeper stakebeds late last week and into this week with shallow stuff giving up scattered fish now and then. Still, the fish appear to be moving around as some sectors are holding fish while other areas with structure and baitfish in the same depth zones are not producing.
Jigs in the light green and clear, black and chartreuse, white and blue, along with some dull colors and unpainted leadheads are working too. Tipping jigs with live minnows has enhanced bites.
Bass are running shad on shallow flats back in big bays and out on the main lake as well. Tossing Rattle Traps, Shad Raps and other shad imitations has worked well.
Gravel banks were still producing a few fish but most of the fish have chosen crankbaits and shied away from topwater as the shad have not been busting the surface too much. Cooler surface temps this next week could see the topwater bite improve.
Some anglers continue to work main lake ledges with Carolina rigs and big crankbaits with mediocre response.
Grassbeds had been producing fish as anglers worked spinnerbaits, Texas rigged worms, chatter baits, and some finesse worms but larger fish have been hard to come by this week.
Not much current has been present so bridge piers and main lake sandbars have not given up many fish as a result.
The recent slow down may be due to the extended spell of high pressure where bright skies and almost no cloud cover have made fish finicky. Watch for action to bounce back quickly if rain and a low pressure arrives this weekend.
For The Lake Barkley Report
Click Here
Also check out our past:
Kentucky Lake Fishing Reports
Steve McCadams
Steve McCadams is one of the nation's best known Crappie Fishermen and a full time resident of Paris, Tennessee. Steve is also a professional hunting and fishing guide here in the Paris Landing area.