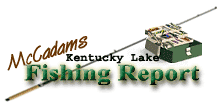 Brought to you by: Fishtale Lodge
August 27, 2009

From this week's fishing scene comes reports of successful bass and crappie anglers who thought recent conditions were more reflective of mid-September that mid-August. Last weekend's low humidity courtesy of a light north wind made it feel like fall was arriving early.

Summer temps have returned but it was a nice deviation from the dog days as there aren't many mornings in August when you need to wear a long sleeve shirt but that was the case on some early outings.

Surface temps fell earlier this week in response to the cool snap. Presently, the water temperature is in the 82 to 85 degree range.

Lake levels have been falling slowly this week as TVA is discharging daily which keeps some current moving in the main river. Water elevation at Kentucky Dam and New Johnsonville is in the 356.8 range, which is down a few inches from last week at this time.

Water color is clear across most of the reservoir.

Bass were running shad around aquatic vegetation and tossing top water jerk baits and willow leaf spinnerbaits with blue/chartreuse and white skirts were working well. Floating fluke style and Texas rigged worms were also paying dividends.

A few anglers have done a run and gun routine lately and chose to fish a wood pattern where shallow bass have been relating to stickups such as logs, exposed crappie beds, and any boat dock or piers where minnows were present.

The main lake ledges are still holding a lot of bass and anglers there are working Carolina rigged worms, lizards and crawfish, along with some nine and ten inch worms worked Texas style. Popular colors have been red shad, Tequila sunrise, blue/black, and pumpkin-pepper.

Big deep diving crankbaits in the Tennessee shad, chartreuse/blue, chrome/black and other shad variations continue to produce too.

Shad are beginning to school near the surface on calm days and will move toward shallow gravel banks in the early morning and late afternoon hours where surface action will improve.

Crappie seemed to perk up thanks to the cooler conditions that seemed to stimulate the bite in midrange stakebeds and brushpiles. Structure in the 12 to 15 foot range was giving up fish with some action coming from 11 to 13 foot zones.

Watch for crappie to continue to move up toward shallow zones, especially on days when cloud cover is present. Some of those shallow areas will produce in the early morning and late afternoon hours due to lowlight conditions as the fish are sensitive to bright sunlight in clear water conditions.

Not much to report from the catfish or white bass department this week. Very few anglers are reporting surface action from the schooling white bass. Although current has been present not many boats are stalking the main river channel for catfish.

For The Lake Barkley Report
Click Here
Also check out our past:
Kentucky Lake Fishing Reports
Steve McCadams
Steve McCadams is one of the nation's best known Crappie Fishermen and a full time resident of Paris, Tennessee. Steve is also a professional hunting and fishing guide here in the Paris Landing area.