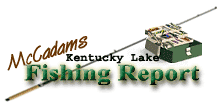 Brought to you by: Fishtale Lodge
May 21st, 2009

LAKE LEVELS FALL BACK TO NORMAL SUMMER POOL...BLUEGILL ACTION GOOD AS CRAPPIE IMPROVES...BASS GOOD IN GRASS/BUSHES AND BACKING OUT TO LEDGES


After several days of rapid drawdown Kentucky Lake is expected to return to normal summer pool by this weekend. TVA has really pulled the plug and spilled a large volume of water through Kentucky Dam as the lake has dropped almost a foot each day since Monday.

While falling water can sometimes alter the whereabouts of fish most anglers have scored decent catches of bass, bluegill, crappie and catfish the last few days.

Lake levels are predicted to be 359.3 going into the weekend at New Johnsonville and 359.5 at Kentucky Dam. A slow fall now underway will likely see stability return once TVA reaches summer pool, which is 359.

Surface temps cooled some early in the week courtesy of a cool spell that made it feel like fall was in the air. Warm weather returned at midweek and now surface temps are in the 70 to 73 degree range and could rise by early next week.

Water color in the main Tennessee River channel is stained as the drawdown has pulled muddy water out of most all bays and creeks this week. Elsewhere on the reservoir water is clearing.

Bluegill and shellcracker have continued to hit with a vengeance this week as spawning continues. Action has been consistent and the big bull bream have been territorial and slamming crickets and other similar baits that enter their bedding zones.

A few shellcracker are showing up but bluegill are dominating the stringers of angers working shallow bays where those sandy, gravel bottoms have appealed to good numbers of fish this spring. Overall this springís bluegill spawn has been good and generally unaffected by the high water.

Expect another week or ten days of prime bluegill actions before post-spawn phases enter the picture. Itís a great time to introduce someone to bedding bluegill as the action is fast and furious as those bobbers disappear.

Bass have been on the move this week in response to the quick drawdown but a lot of fish are still relating to those bucks bushes and grassbeds. As lake levels have fallen more grass is now exposed and the buck bush and grass combo has been productive for anglers tossing spinnerbaits and topwater.

Submerged milfoil grass has given up some fish to rattle traps and spinnerbaits this week as current has entered the picture around river islands and points.

Flipping and pitching Texas rigged lizards or worms is working well on outside bushes as a lot of fish have pulled out of very shallow backwater pockets and now favor outside structure and treetops near deep water or feeder creeks.

Activity has improved on main lake ledges and drop-offs in the mouth of large bays where Carolina rigged lizards, jig and pig combos, and big deep diving crankbaits are appealing. The warmer weather and falling lake levels will continue to work in favor of ledge fishermen in the weeks ahead.

Some anglers are flipping docks and finding that pattern producing too.

Crappie action was slow earlier in the week but has shown signs of improvement as lake levels return to normal. Some dandy stringers were taken on main lake ledges at midweek where depths of 19 to 22 feet were producing.

It appears the fish pulled back to deeper water for a few days as the fast drawdown seemed to pull fish out of shallow areas in favor of the deep sides of drop-offs. Watch for action to improve in that 12 to 14 foot zone this week as fish return to midrange depths where stakebeds and brushpiles will produce.

While bottom bumping rigs with minnows have worked well on ledges some anglers have slow trolled crankbaits and long lined jigs over open water with results.

Watch for crappie action to improve dramatically in the near future as the late May and early June period can be quite productive.

Catfish continue to prowl shallow areas with some nice ones being caught on rock banks this week. Bluegill fishermen are tying in to some hefty ones on a daily basis as the fish roam toward spawning territory.

Good reports continue to come in from the rip-rap rock levees at Danville and Paris Landing while the rock bluffs near the power lines in Big Sandy and the little rock island adjacent to Sulphur Well Island has been popular.

Hopefully, high water is in the rearview mirror of anglers who have battled a changing lake for several weeks running. Great weather and normal lake levels are teaming up to provide good fishing conditions.


For The Lake Barkley Report
Click Here
Also check out our past:
Kentucky Lake Fishing Reports
Steve McCadams
Steve McCadams is one of the nation's best known Crappie Fishermen and a full time resident of Paris, Tennessee. Steve is also a professional hunting and fishing guide here in the Paris Landing area.