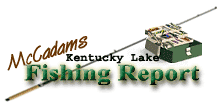 Brought to you by: Fishtale Lodge
May 14th 2009
DESPITE HIGH LAKE LEVELS SOME SPECIES HITTING GOOD...SLOW DROP IN LAKE STAGES UNDERWAY
High water dominates the conversation among practically all lake users these days. Everyone is asking when it will go down and why has it stayed around so long.
Despite unusual lake conditions---namely high water---anglers have scored some pretty good stringers of bass, bluegill, shellcracker, catfish and crappie this week.
In last week's column I made mention of the lake level receding and that TVA's forecast depended on present and future rainfall. Before the ink was dry on that update heavy rains reentered the picture and Kentucky Lake's brief drawdown was replaced by yet another rise in elevation.
TVA continues to revise it's projections on lake stages and has been changing its forecast twice daily since last week. It has been crazy out there on the lake dodging debris.
At midweek projections show the reservoir had crested and was falling slowly. Present elevation was 363.5 going into the weekend at New Johnsonville and 363.6 at Kentucky Dam. Normal summer pool is 359.
If heavy rains stay away from the region look for TVA to continue to flush water through the system and increase the discharge in the days ahead. Among the problems lately have been high river stages to our north on both the Ohio and Mississippi Rivers that has likely decreased TVA's ability to discharge a larger volume of water.
Surface temps this week have been in the 68 to 71 degree range. Water color is dingy in the main Tennessee River channel and throughout many bays and major creeks. The mouth of Big Sandy has seen increased stain but sporting a good color for fishing while up Big Sandy muddy water is present. West Sandy is dingy and behind the levee at Springville pumphouse the West Sandy WMA is flooded as Kentucky Lake backed up into the bottom on the north end of the levee during this high elevation.
Bluegill are bedding and big numbers have been taken even during the high water periods on both the main lake and in Springville bottom. These powerful panfish have been the best thing going for the average angler and most of the larger fish have stayed put on the original beds despite rising water.
Shellcracker have scattered some and likely relating to the buck bushes behind the original shoreline that are difficult for most anglers to reach. Some have been taken on submerged bushes and grass as anglers cast wax worms on small leadheads.
Crappie have been fair on some days as rising water seemed to scatter them but other days when cloud cover was present and lake levers were either stable or falling the fish seemed to bite better and related to structure.
Depths of 15 to 20 feet have given up some good fish where manmade stakebeds and brushpiles are located. And, there were still some fish on the main lake ledges showing up in the creel of anglers fishing 25 foot depths on the drop-offs. However, the high water makes it seem weird to fish such deep structure at this time of year.
Jigs tipped with minnows have worked well.
Catfish have shown more interest this week and areas such as the rip-rap levee on the Stewart County side of the Highway 79 Ned McWherter Bridge is attracting spawners. The fish are moving up to rocky bluffs in search of spawning habitat and the crevices in the rock banks are ideal.
Action has improved up Big Sandy near the power lines on the above Lashlee Spring and also the little rock island adjacent to Sulphur Well Island, which is commonly referred to as "catfish island".
Bass anglers continue to enjoy the parade as the bite has been great at times. Flipping and pitching buck bushes has been the popular pattern but some have chosen to fish Carolina rigs off points and ledges as current entered the picture.
Most anglers are pitching lizard imitations around bushes and scoring consistently. Texas rig style has worked well with popular lures such as the Storm Baby Brush Hog and Sweet Beaver style baits have produced.
Floating worms and stick baits have worked too as a lot of small fish have been taken that way. Spinnerbaits are working well and allowing anglers to cover a lot of water and probe those submerged grass beds and buck bushes.
Some Rattle Trap and other crankbaits have worked too on sloping gravel points.
Last Saturday's Austin Peay buddy bass tournament saw the winner stringer tipping the scales at over 29 pounds and the top six stringers exceeded 20 pounds, which says something about the present status of the Kentucky Lake bass fishery.
There were two fish taken in the event that exceeded 8 pounds!

For The Lake Barkley Report
Click Here
Also check out our past:
Kentucky Lake Fishing Reports
Steve McCadams
Steve McCadams is one of the nation's best known Crappie Fishermen and a full time resident of Paris, Tennessee. Steve is also a professional hunting and fishing guide here in the Paris Landing area.