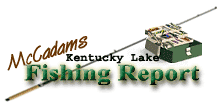 Brought to you by: Fishtale Lodge
April 22nd 2009

HIGH LAKE LEVELS/WIND CHALLENGE ANGLERS BUT WARM FORECAST REASON FOR OPTIMISM



Kentucky Lake anglers have battled high lake levels and strong winds for most of this spring and this past week was no exception, except for a brief hiatus last Friday and Saturday.

Presently, lake levels are some 2 1/2 to 3 feet above normal and TVA has been reluctant to live up to its own curve for reservoir filling this spring as the reservoir has been above normal since back in mid to late March.

Lake stages today (Tuesday) are 360.4 and expected to rise slightly tomorrow to 360.5 at New Johnsonville (normal summer pool is 359 but not supposed to be reached until May 1. The elevation should be in the 357.5 to 358 range during the third week of April based on TVA's curve.). At Kentucky Dam the elevation is 360.4. Projections show a slight fall beginning Thursday.

Surface temps have climbed into the 61 to 64 degree range this week. With warm weather entering the forecast---predictions are for warm sunny weather and temperatures reaching the 80's later this week---surface temps are likely to reach the upper 60's later this week.

What's the status of the crappie spawn? That's always a popular question this time of year and controversial among the ranks of anglers and bait shop round table discussions.

It appears the bulk of the fish have spawned but most anglers have had trouble pinpointing peak time as cold weather, high water and winds have teamed up to challenge anglers, making it difficult to pattern fish from week to week.

There are some females still holding eggs so a few will likely make a last wave of attempt later this week as waters warm. It's not unusual for Mother Nature to spread out the spawn over a two to three week period---sometimes even longer---but usually anglers experience a week to ten days of hot action as fish head to shallow structure. This spring that has been difficult to gauge.

I had some pretty good catches last week but slowed down dramatically on Friday as a quick rise in lake levels really had a negative impact on crappie here in the Paris Landing area. After two days of slow action fishing improved on Monday as waters had crested and roaming fish seemed to return to structure and got back to biting.

Rising lake levels tend to scatter fish. Add a cold front and high winds to it and that make for tough fishing for a short period of time until conditions stabilize. It appears the reservoir will crest today or tomorrow and begin falling slowly. Warm weather is ahead so anglers should see some improvement.

Some crappie are lingering on main lake ledges in 18 to 25 foot depths. Most of those have yet to spawn but about 80% of the fish I've taken the last week or so have spawned.

Scattered fish are returning to manmade fish attractors in the 11 to 15 foot range with a few roaming the 8 to 11 foot range. Not many fish have been taken on the shorelines or in buck bushes, although a brief period of success was enjoyed up Big Sandy early last week when fish made a blitz to dead grass and bushes only to fall victim to a drop in lake levels coupled with a cold front that shut down the shoreline bite. A few anglers were wading and finding crappie spawning in visible cover but it didn't last long.

Methods have ranged from drifting over flats to long line dragging and slow trolling of spider rigs this week. Some boats were trolling crankbaits last week during the rise and found suspended and scattered fish playing their game.

Some anglers continue to score while fishing deep water with double hook bottom bumping rigs where both jigs and minnows have produced, although fish are scattered there as well.

Vertical fishing jigs tipped with minnows or Berkley Power Bait has been fair but improving. Popular colors have been orange/chartreuse and some white/blue with brown hair skirts. Water color is clear in the main lake but shows stain in the upper Big Sandy and in back of creeks here in the Paris Landing area.

In summary it appears the bulk of fish have spawned but apparently the fish made a surge when surface temps reached the threshold of 62 degrees a couple of weeks ago and although it cooled off quickly and stayed around the 58 degree mark in many areas, fish began their thing in early April.

Some fish may enter shoreline habitat in the days ahead since high lake levels offer them ample cover there but it's not likely a mass exodus will occur for anglers who love that very shallow scenario.

It has indeed been a strange spring.

Bass fishermen are still at it with some nice stringers now coming from bushes and dead grass. Floating worms, jerk baits, spinnerbaits, Texas rigged lizards and crawfish have worked well. Look for a real surge in the topwater bite later this week due to the warm up.

Some fishermen are still tossing Carolina rigs on sloping points and gravel banks. Crankbaits are still producing too. However, rising lake levels have inundated shoreline cover to the extent a lot of bass have moved up and now entering prespawn phases.

The shallow bite for bass should hold up well this week and those abundant areas of yellow flowers submerged in small pockets off the main lake are a sure bet for bass.

For The Lake Barkley Report
Click Here
Also check out our past:
Kentucky Lake Fishing Reports
Steve McCadams
Steve McCadams is one of the nation's best known Crappie Fishermen and a full time resident of Paris, Tennessee. Steve is also a professional hunting and fishing guide here in the Paris Landing area.