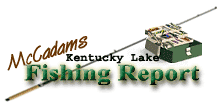 Brought to you by: Fishtale Lodge
April 9th 2009

STUBBORN SPRING KEEPS ANGLERS OFF BALANCE…BETTER DAYS IN THE FORECAST


Kentucky Lake anglers have battled above average water levels and below average temperatures this week. Both the fish and fishermen have been confused.

Warm and sunny or cold and windy? Take your pick as everything from snow flurries to sunburns have been part of this week's fishing scene.

Crappie have been thrown off as have the bass. Both have been scattered this week. Some flirted with shallow areas while others were taken here, there and everywhere. It's fair to say fish have been roaming.

After a few days of brutal winds and below average temperatures it appears moderate weather will return as the crappie spawn returns to more active phases. Last week the fish were beginning to move up fast but the uninvited cold front really put the brakes on the spawn, delaying it by at least a week.

Presently surface temperatures are rebounding and gaining lost ground. At midweek surface temps had fallen to 55 degrees, down some seven degrees from a 62 temp reading last Saturday in some spots.

Going into the weekend look for a slow climb back into the low 60's. That should stimulate the spawn for crappie as the fish were on the threshold last weekend as the drastic weather changed kicked in the door.

Water levels continue to change as the reservoir has been some 3 ˝ feet above normal this week. That alone can be a hurdle. Add high winds and a cold front and it's downright tough.

Late Wednesday water levels began to fall slowly and TVA is projecting falling lake levels going into the weekend. At midweek elevation in the New Johnsonville area was 359.2 and projected levels for Saturday are 358.8. At Kentucky Dam the reservoir was 358.9 and will also fall slowly in the days ahead.

Some dingy water was present in Big Sandy and in the upper basin south of Country Junction while water is beginning to clear in the Paris Landing area and in West Sandy. Look for a lot of the dingy water to disappear as lake levels fall in the days ahead.

Crappie are ready to get back to the active spawning phases and action should improve in the days ahead. This week fish have been moving and difficult to pattern, although some decent stringers were taken on main lake ledges in 17 to 20 foot depths in the Paris Landing area.

At the same time decent catches were reported from the upper Big Sandy area where boats were drifting and trolling in 7 to 10 foot depths and finding fish taking jigs. A lot of the fish were suspended and not relating to structure, which worked in favor of those anglers dragging spider rigs and various multi pole presentations.

The bite backed off for those anglers vertical fishing jigs and minnows over stakebeds and brushpiles as the fish were quite scattered. That technique should bounce back quickly as fish migrate toward spawning areas and structure.

Popular jig colors this week have ranged from orange/chartreuse combos to florescent green leadheads and a wide variety of loud colored skirts in the dingy water. In clear water areas unpainted leadheads and chartreuse skirts have worked well on both tube jigs and Roadrunner style baits.

Some anglers are casting curly tail jigs with moderate results. Not many male crappie were on shallow gravel banks this week due to the falling surface temps but watch for that to change quickly as waters warm.

Male crappie are staging out away from the shoreline at the present time and females have really put on a bulky egg sac in the last week to ten days. The dogwoods say its time too.

Bass anglers have also suffered a decline this week due to high skies and rising lake levels that turned off the bite somewhat. While a few decent stringers have been taken most fishermen struggled to find fish in places where they were catching them a few days earlier.

This week's lake levels were above summer pool and that inundated a lot of bushes, trees, and grassbeds along the shoreline. While some fish moved up quickly they were scattered and others rode out the cold weather in deeper water.

Right now bass fishermen are tossing everything in the tackle box---from spinnerbaits to deep diving crankbaits and Carolina rigs---in an attempt to locate bass. Practically all techniques are producing some small fish too.

Just how much the reservoir will fall next week remains to be seen. Meanwhile, most fishermen are welcoming the return of warm weather and falling lake levels as things attempt to get back to a near normal spring conditions, whatever that is.


For The Lake Barkley Report
Click Here
Also check out our past:
Kentucky Lake Fishing Reports
Steve McCadams
Steve McCadams is one of the nation's best known Crappie Fishermen and a full time resident of Paris, Tennessee. Steve is also a professional hunting and fishing guide here in the Paris Landing area.