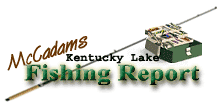 Brought to you by: Fishtale Lodge
April 1st 2009
KENTUCKY LAKE CRAPPIE SPAWN ABOUT TO BEGIN

Been waiting for the Kentucky Lake crappie spawn to begin? If so, your wait is over as the fish are moving up fast as waters warm, setting off the alarm on the biological clock of the areaís most popular panfish.

Hefty stringers have been taken this week by a variety of methods from anglers testing the waters of the famous Big Sandy portion of Kentucky Lake. Every year about this time anglers flock to this area in search of pole benders and it appears the area is living up to its reputation thus far this spring.

Surface temps have been dancing around the 59 to 62 degree range this week. Spawning usually occurs once the water reaches the 62 to 66 degree range and it appears that will happen early next week barring any drastic cold fronts.

Male crappie have been migrating toward shallow areas this week and showing their darkening phase which signals spawning time is close at hand. Several fish have been taken in 4 to 8 foot depths and some have been caught in shallow shoreline stickups.

Lake levels have been changing as anglers have battled a roller coaster ride of elevation that shot up fast early this week to the summer pool mark of 359 in this area. That summer pool reading is about four feet above normal for this time of year and isnít supposed to occur until May 1 but heavy rains to our south have apparently influenced the present scenario.

What will TVA do with the water levels as the crappie spawn begins? Thatís the topic of discussion among the ranks of crappie fishermen who always worry about the fish heading shallow and spawning only to have the water jerked out from under them, a situation that can diminish the success of the spawn.

Water levels crested on Wednesday and TVAís projections going into the weekend indicate the agency will be pulling a lot of water as it attempts to draw the reservoir back down to its curve. Anglers can expect falling lake levels for the next several days as more rain enters the picture.

Presently, lake stages in the New Johnsonville area are in the 358.4 range and falling. At Kentucky Dam the elevation is expected to be 358.5 going into the weekend. Those readings are up more than three feet from last week at this time so there has been a lot of fluctuation this week.

Crappie have been hitting good on those warm sunny days but the changing lake levels have scattered fish that appear to be roaming and not relating to structure as much as they would have had there not been a fast rise in elevation.

Things are changing fast, however, as every day the fish move closer toward active spawning phases. Despite the high lake levels some good stringers have been taken this week up Big Sandy where anglers fishing the New Hope and Country Junction area have scored.

West Sandy has given up a lot of fish too, along with the Elkhorn sector and flats south of the power lines. Fishing showed signs of improvement in the Paris Landing sector at midweek.

A variety of techniques in a variety of depths continues to produce. This week Iíve seen coolers full of fish come in from anglers working the main lake ledges in 18 to 24 foot depths while others were casting jigs toward shallow structure and having success at the same time.

Two different depth extremes have produced as have two drastically different methods. And, those midrange depths of 11 to 16 feet have been holding a lot of fish as anglers troll spider rigs and pull long line techniques up Big Sandy to chalk up consistent coolers full of fish.

Popular lures have been Road Runners and curly tail jigs by those slow trolling. Drifters have used tube skirted jigs and live minnows as have anglers vertical fishing over manmade fish attractors.

Color choices have ranged from white/red, pink/chartreuse combinations to lime green leadheads with clear sparkle skirts. In dingy water loud colors have produced best while the clear water areas seem to favor dull colors or white.

Water color up Big Sandy is stained while most of West Sandy is clear. The mouth of Big Sandy at Paris Landing is also clear.

Watch for crappie to really move up to shallow zones in the days ahead. Even with falling lake levels the fish will likely move up to that 5 to 10 foot zone and being spawning.

While some anglers were hoping lake levels would remain high for shoreline buck bush fishing and even some wading around stickups, odds are receding waters will not allow that to happen until later this month unless heavy rains reenter the picture.

Bass fishermen are still finding a lot of fish, although it appears some of the big fish have backed off. Still, plenty of good size largemouth are running the rocky banks and entered very shallow areas this week in response to the warm days and rising lake levels that inundated dead grass, logs, and even some bushes.

Those yellow flowers are showing up in shallow water venues and that seems to really attract the bass that are entering prespawn phases. Working the shallow grass with floating worms, jerk baits, spinnerbaits, and lizards or imitation crawfish has worked well.

As current enters the picture watch for those points along the main lake to hold bass. Also, deeper ditches and feeder creeks with steeper banks will likely appeal to bass that pull back and ride out the falling lake levels with a deeper water refuge nearby.

Both bass and crappie anglers are encountering rapid changes in weather and lake levels as they attempt to pattern fish that are on the move. Welcome to the unstable spring fishing conditions that always seem challenge keep fishermen humble.

For The Lake Barkley Report
Click Here
Also check out our past:
Kentucky Lake Fishing Reports
Steve McCadams
Steve McCadams is one of the nation's best known Crappie Fishermen and a full time resident of Paris, Tennessee. Steve is also a professional hunting and fishing guide here in the Paris Landing area.