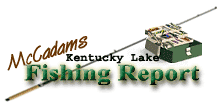 Brought to you by: Fishtale Lodge
Steve McCadams'
Kentucky Lake Fishing Report for:
March 31st, 2009

Kentucky Lake has been rising fast the last few days and is expected to crest on Wednesday with elevation reaching the 359 mark of summer pool, which is about 4 feet above normal. TVA is projected a rapid drop beginning Wednesday of some 6 inches each day.

Surface temps are in the 58 to 61 degree range.

Right now crappie are quite scattered due to the quick changes taking place the last few days. The most consistent areas have been the upper Big Sandy near New Hope and south of the power lines near Trace and Popular Creeks, along with the Elkhorn basin west of Sulphur Well Island.

Some dingy water is present near New Hope while West Sandy is clear. Here in the Paris Landing area water is clear and fish are scattered.

Spawning is likely a week away but action may improve for crappie anglers in the next few days and the falling lake levels might return fish to a structure oriented mood as right now they are suspended and on the move.

Bass are moving up to shallow areas quickly and some fish are now in dead grass and bushes along the shoreline that was literally dry ground three days ago!.
For The Lake Barkley Report
Click Here
Also check out our past:
Kentucky Lake Fishing Reports
Steve McCadams
Steve McCadams is one of the nation's best known Crappie Fishermen and a full time resident of Paris, Tennessee. Steve is also a professional hunting and fishing guide here in the Paris Landing area.