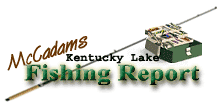 Brought to you by: Fishtale Lodge
Steve McCadams'
Kentucky Lake Fishing Report for:
March 26, 2009
PRESPAWN CRAPPIE BITE IMPROVES AS FISH MOVE SHALLOW...BASS ON GRAVEL BANKS AND HITTING GOOD


Kentucky Lake crappie have been in prespawn phase for some time now and action improved this week as a lot of fish moved up to midrange depths in preparation for spawning, which is fast approaching.

This week surface temps really warmed and that stimulates movement from deep to shallow zones as the fish stair-step their way toward shallow structure.

Presently, surface temps are in the 57 to 60 degree range over much of the reservoir and Big Sandy is warming rapidly and likely ahead of most other regions of the lake. Male crappie are showing signs of hormonal changes as their pigment darkens, which is another sign the spawn is knocking at the door.

Active spawning takes place once surface temps linger in the 62 to 66 degree range. That could happen by early next week so crappie anglers should see a lot of movement in the days ahead as those 7 to 12 foot depths start appealing to meandering crappie that are staging out away from shorelines.

Lake levels have see-sawed slightly this week after some rain. Currently, elevation at both Kentucky Dam and upstream at New Johnsonville is 356.3. That reading is about two feet above the normal winter pool level for this time of year but TVA's curve for reservoir filling begins on April 1.

Under normal conditions the reservoir is resting at its low ebb of winter pool (354 range) until April 1 when TVA allows a gradual rise to the summer pool mark of 359 by May 1.

Water color remains clear in the main lake but rains and high winds at midweek stirred up some sediments in bays so there is a little color in the bays, especially up Big Sandy toward the Country Junction area and into West Sandy around Britton Ford and Springville pumphouse.

Some good stringers have been taken in those areas this week by a variety of methods ranging from long line drifting to slow trolling spider rigs. Vertical presentations have also paid off well as anglers work jig tipped with minnows around submerged stakebeds and brush piles.

Popular jig colors have ranged from red/chartreuse to lime green with sparkle and some pink/chartreuse combos just to name a few.

In the Paris Landing area fish really moved up to structure the last few days in 7 to 12 foot zones. Fish were hitting good in areas that were void of fish a few days earlier, indicating a migration is underway toward spawning venues.

Not to be overlooked are those main lake ledges that are still giving up some decent stringers as fishermen stalk the 17 to 22 foot zones with bottom bouncing, double hook Kentucky Lake rigs. Seems there's always a few fish lingering on the ledges out there.

Bass are still on the gravel and big rock banks where good numbers of fish have been caught by anglers tossing crankbaits in the crawfish, red shad, chrome/blue, and fire tiger colors. Rattle Traps and Bandit crankbaits have been popular choices as have suspending jerk baits such as Smithwick's Rogue and Bomber Model A.

Floating worms are working too as are spinnerbaits around some dead grass in the backs of bays. Roadbeds and rip-rap rock levees are holding a lot of fish.

Some anglers are casting Carolina rigs on sloping gravel points to find a few spotted bass and largemouth.

Watch for the topwater bite to continue to improve as waters warm.

Fishing has been good this week as March has delivered some cool and windy days but there have been some pleasant days too when anglers had light winds and warm sunshine that really stimulated the bite from both bass and crappie.

For The Lake Barkley Report
Click Here
Also check out our past:
Kentucky Lake Fishing Reports
Steve McCadams
Steve McCadams is one of the nation's best known Crappie Fishermen and a full time resident of Paris, Tennessee. Steve is also a professional hunting and fishing guide here in the Paris Landing area.