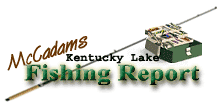 Brought to you by: Fishtale Lodge
Steve McCadams'
Kentucky Lake Fishing Report for:
March 19, 2009
SPRING KNOCKS ON DOOR OF ANGLERS...BASS ACTION GOOD ON ROCKY BANKS...CRAPPIE BEING TAKEN IN A VARIETY OF DEPTHS/TECHNIQUES


Spring officially arrives Friday.. However, Kentucky Lake anglers have had spring fever for quite some time as the nice weather earlier this week sure stirred up fishing fever for bass and crappie anglers.

Itís rare to have several warm days back to back in mid-March without the wind but that was the case this week and fishermen took advantage of it as boats were out in force.

Crappie action improved with several decent catches reported from a variety of depths and techniques. From West Sandy comes word of some nice fish taken in the Britton Ford area where anglers used both drifting or pulling methods and vertical presentations of jigs over manmade fish attractors to score.

Some success stories also came in from the New Hope area up Big Sandy where slow trolling methods were working. Not many were using crankbaits as the jigs pulled slowly seemed to work best but watch for the crankbait technique to begin working soon.

Down Big Sandy toward the power lines near Mansard Island anglers were finding fish suspended at 12 to 14 feet over deeper water. Often times fish were caught 12 feet deep where the bottom was 20 feet deep.

Dragging both minnows and jigs with slow trolling methods seem to be working as most boat had multipole rigs out.

In the Paris Landing area a lot of boats were working the main lake ledges where dropoffs were giving up some scattered fish as well. A few boats were stalking the shallow areas in the backs of bays and on flats but most of the fish appeared to be somewhat deeper.

This is the time of year when fish are really moving so itís not unusual to find fish tomorrow where they were absent yesterday.

Water levels have been rising slowly this week and crested Wednesday. A slow fall is now underway. TVAís forecast for lake stages indicates the reservoir will be 355.8 this weekend at Kentucky Dam. Upstream at New Johnsonville the lake will be 355.6.

Surface temp is in the 52 to 54 degree range. Water color is clear in the main lake with some stain up Big Sandy and in West Sandy.

Cooler weather and some rain is entering the picture but hopefully moderate conditions will return quickly as fishermen are ready to bust loose and get on the water as the crappie enter their prespawn phases and move up.

Bass action continues to hold up well and local anglers are landing good numbers with some hefty fish mixed in. Several fish have been taken in the 5 to 7 pound range lately.

Productive patterns have been Rattle Traps cast around rock and gravel banks, along with shallow running crankbaits around dead grass and rock. Crawfish and shad colors have worked best.

Several fish have been caught on suspending jerk baits too, along with some floating worms. Spinnerbaits and some jig and pig combinations have fooled a few but watch for the topwater bite to improve as that surface temp warms next week.

Overall, lake levels and surface temperatures are normal for this time of year and fishing patterns for both bass and crappie are holding up. Last year at this time lake levels were high but so far, Kentucky Lake is behaving pretty well for fishermen.

An approaching cool spell with some rain will dampen the spirits of fishermen for a day or two but watch for a quick turn around by early next week if that sun pops out and things warm up.
For The Lake Barkley Report
Click Here
Also check out our past:
Kentucky Lake Fishing Reports
Steve McCadams
Steve McCadams is one of the nation's best known Crappie Fishermen and a full time resident of Paris, Tennessee. Steve is also a professional hunting and fishing guide here in the Paris Landing area.