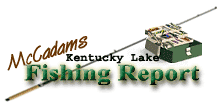 Brought to you by: Fishtale Lodge
Steve McCadams'
Kentucky Lake Fishing Report for:
March 12, 2009
KENTUCKY LAKE BASS OFF TO GOOD START…CRAPPIE ON UPSWING

By Steve McCadams



Bass action continues to hold up quite well for anglers who are landing some hefty stringers even on the cold and windy days. Crappie responded to the recent warm spell and showed some interest as well.

After several days of above average temperatures that really made it feel like spring arrived early a cold front entered the picture at midweek with some mixed precipitation, reminding anglers to keep the overcoat handy.

Even cold days and rain have not dampened the spirits of local bass fishermen who continue work those gravel banks and rock bluffs with crawfish colored crankbaits. Seems the largemouth are really on the gravel pattern and anglers found fish moving up quite shallow earlier this week in response to the recent warm spell.

A few bassers are tossing jig and pig combos and some suspended Rogue's in the assorted colors ranging from fire tiger to chrome and black. Shallow running crankbaits are working well in shad colors and crawfish imitations. Some fish have also taken fluke style worms and a spinnerbait or two.

Lake levels have been relatively stable this week. Presently, elevation at Kentucky Dam is 355.1. Upstream at New Johnsonville the reading is 354.8. Water color is clear in the main lake with some dingy water on points where winds have whipped up shallow areas.

Surface temps climbed earlier this week after several days of back to back warm weather. Some areas were in the 50 to 52 degree range at times but watch for that to fall back a few degrees by this weekend as cold weather lingers.

Crappie improved this week with a variety of reports coming in with fish taken in a wide range of depths. Up West Sandy crappie were hitting good earlier this week in the 7 to 11 foot depths and some fish were taken in 5 to 7 foot depths.

Anglers there were slow trolling spider rigs or long lining jigs drifted over flats and structure. Up around the mouth of Big Sandy near Mansard Island and up toward Paris Landing a few crappie were taken in midrange depths where stakebeds and brush were located. However, the better grade of fish seemed to be lingering in the main lake where drop-offs were giving up fish from the 18 to 24 foot depth range.

Jigs were producing a lot of fish as were live minnows. The tightline technique of bottom bumping rigs was working but so were just jigs fished around the structure. Popular colors ranged from brown/chartreuse with glitter to red/chartreuse, purple/green and some pearl and gray.

Although the cold front may bring a short hiatus to this week's bite watch for action to resume quickly as conditions are expected to moderate by early next week.
For The Lake Barkley Report
Click Here
Also check out our past:
Kentucky Lake Fishing Reports
Steve McCadams
Steve McCadams is one of the nation's best known Crappie Fishermen and a full time resident of Paris, Tennessee. Steve is also a professional hunting and fishing guide here in the Paris Landing area.