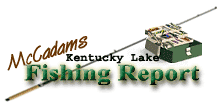 Brought to you by: Fishtale Lodge
Steve McCadams'
Kentucky Lake Fishing Report for:
February 7th, 2003
This week's fishing scene had a brief reprieve from the cold and nasty weather but the improvement was short-lived. Last weekend had a warming trend sneak in the door on Saturday and linger through Monday but north winds and cooler temperatures returned quickly with snow making the forecast this week.
Observed lake elevation at Kentucky Dam was 354.9 and stable. Upstream at New Johnsonville the reservoir was slightly higher with readings of 355.3 and also stable.
Kentucky Lake continues to have clear water throughout most of the reservoir, including the mouth of Big Sandy and up through West Sandy.
Surface temperatures were in the 33-37 degree range. With colder conditions returning anglers could see the return of some ice in shallow backwaters, depending on the wind this week.
Crappie anglers have had mixed results early this week with some success coming from anglers in Big Sandy and West Sandy. A few fish were coming from 10 to 12 foot depths in those areas where brush and stumps could be found. Anglers were slow trolling jigs and minnows.
Many anglers working the deep ledges of the open waters near Paris Landing were having slow to fair luck. The recent shad kill may still have a lingering affect, making it more than the average challenge for anglers.
Some fish were relating to the deep sides of main lake ledges this week in 18 to 20 foot depths but crappie were reluctant to take jigs or live minnows.
Look for action to improve, however, in the weeks ahead as the next warm spell will likely see a dramatic change for the better.
Sauger fishing has been fair for a few anglers who continue to work the narrow channel areas and play the current in such zones as the Danville Bridge, New Johnsonville, and the mouth of Duck River. Down toward Pickwick and Diamond Island the action was somewhat better.
With the return of cold weather anglers may have a few days of tough going due to north winds and cold temperatures. Keep an eye on the thermometer as things can change quickly this time of year!

For The Lake Barkley Report
Click Here
For Other Kentucky Lake Fishing Reports
Click Here
Steve McCadams
is a professional hunting and fishing guide here in the Paris Landing area and host of The Outdoor Channel's television series IN-PURSUIT.