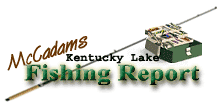 Brought to you by: Fishtale Lodge
Steve McCadams'
Kentucky Lake Fishing Report for:
February 14th, 2003
ANGLERS ANXIOUS FOR BETTER WEATHER
Winter fishing continues to be affected by the elements as snow, ice and cold winds returned earlier this week. A lot of waterfowlers would have loved to have the recent weather changes pushed back into December when temperatures were above average and winds were calm.
Temperatures could moderate, however, in the days ahead. Still, some anglers have braved the conditions anyway and there are a few success stories among the ranks of crappie anglers. In fact, several crappie anglers were out on Wednesday and Thursday testing the waters thanks to a warming trend. However, the weatherman indicates rain could be part of the picture for a day or two.
The most success has been in the West Sandy area around the Britton Ford sector where anglers have found crappie in the 12-foot zones. Most boats are slow trolling or spider rigging multi-pole presentations of jigs.
A few crappie have been taken around some submerged structure but most anglers report finding fish somewhat suspended along the deep sloughs and cuts there.
Slow movement of the jigs in a stop and start type motion has accounted for some decent caches the last two weeks in both West Sandy and out on the Big Sandy too.
Such colors as blue and pearl, orange and yellow, and chartreuse with red metal flake have been productive. Most anglers are tipping their jigs with Berkley Power Nibbles or squirting Fish Formula on the skirts to enhance appeal.
Down around Paris Landing action has been a bit slower but some fish were biting in the 20-foot zones as anglers worked the open water ledges. Water is clear at the mouth of Big Sandy and around the Paris Landing area but there was some stain up in West Sandy and upper Big Sandy.
A few crappie were taken around Bass Bay recently too as the deep meandering creek channels there have produced some good winter crappie in times past.
Observed lake elevation this week was 354.4 at both Kentucky Dam and New Johnsonville Steam Plant. The lake is falling slowly. Surface temperatures were in the 34 to 39 degree range at midweek.
There has been some current this week in the main river channel of the Tennessee but not many successful sauger reports are coming in. A few anglers are attempting to find fish at the warm water releases at both New Johnsonville and Cumberland City but action on sauger, rockfish, and catfish has been relatively slow.
Watch for action to pick up quickly next week if winds and temperatures give anglers a chance to get back out on main lake areas.

For The Lake Barkley Report
Click Here
For Other Kentucky Lake Fishing Reports
Click Here
Steve McCadams
is a professional hunting and fishing guide here in the Paris Landing area and host of The Outdoor Channel's television series IN-PURSUIT.