Home
Sporting Goods, Bait and Tackle
Hunting Stories and Information
Fishing Stories
and Information

WINTER CRAPPIE ON KENTUCKY LAKE
From: Crappie Action Guide Service

While most folks are chasing deer or ducks or maybe a warm fireplace, guide Ken Riddick of Crappie Action Guide Service and his clients are catching fish. Lots of fish. Check out this nice catch from a December trip. Pictured are Chris and June Streitenberger from Ohio on a very wintery day.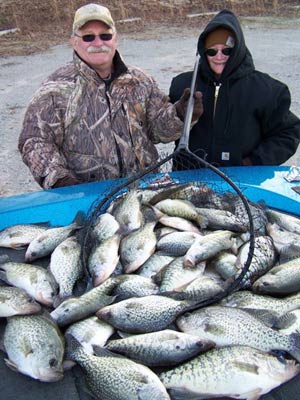 These fish were caught in the Big Sandy on Chartreuse and Red Big Head Jigs.
Bundle up and get out there folks if you want to catch some nice crappie.
Happy Holidays