Home
Sporting Goods, Bait and Tackle
Hunting Stories and Information
Fishing Stories
and Information
This page brought to you by: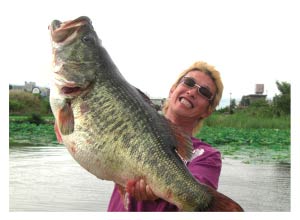 Records are made to be broken. And sometimes tied!

Most anglers thought the next big largemouth bass to challenge George Perry's long standing record would come from the likes of a lake in California. Others were betting on Florida while more than a few backlash Bozos claimed they'd already hooked it while fishing hidden lakes in Mexico and Castro's Cuba.

Turns out they could be both right and wrong. Earlier this week word hit the tackle world that a lunker taken back in the summer in Japan---yes Japan where the people are small but the bass are big---was officially certified as matching the hefty weight from George Perry's record catch from yesteryear.

After nearly six months of waiting, Japan's Manabu Kurita is taking his place along side Georgia, USA angler George Perry in the International Game Fish Association's (IGFA) World Record Games Fishes book as dual holders of the All-Tackle record for largemouth bass each weighing 22 lb 4 oz and caught 77 years apart.

IGFA approved Kurita's application for the fish caught from Japan's largest lake on July 2, 2009. The 70-year old non-profit fisheries conservation, education and record-keeping body, received Kurita's application and documentation on Sept. 19, 2009. The largemouth bass (Micropterus salmoides), was caught from Lake Biwa which is an ancient reservoir northeast of Kyoto.

Kurita, 32, of Aichi, Japan, was fishing Biwa that July day using a Deps Sidewinder rod and a Shimano Antares DC7LV reel loaded with 25 lb Toray line when he pitched his bait, a live bluegill, next to a bridge piling. It was Kurita's first cast to the piling where he had seen a big bass swimming. He only twitched the bait a couple of times before he got bit. After a short, three minute fight he had the fish in the boat.

Kurita's fish ties the current record held for over 77 years by Perry who caught his bass on Georgia's Montgomery Lake, June 2, 1932, near Jacksonville, Georgia. That 22 lb 4 oz behemoth won Field and Stream Magazine's big fish contest and 46 years later, when the IGFA took over freshwater records from Field and Stream, it became the All-Tackle record now one of over 1,100 fresh and saltwater species the IGFA monitors.

In North America the largemouth bass, and especially the All-Tackle record, is considered by millions of anglers as the "holy grail" of freshwater fish because of its popularity and the longevity of Perry's record. That fish undoubtedly helped to spawn a billion dollar industry that today makes up a significant part of the sport of recreational fishing.

Steve McCadams is a professional hunting and fishing guide here in the Paris Landing area. He has also contributed many outdoor oriented articles to various national publications.