Kentucky Lake Crappie Pictures
February 2002
from Patrick Hahs of Kentucky Hydrografx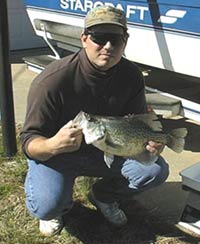 Patrick Hahs of Murray, Kentucky
This is what it's all about. A monster black crappie from the Big Sandy area of Kentucky Lake. This fish was officially weighed on digital scales at 3.46 pounds and measured 17.2" in length. Caught on February 23rd, 2002. Patrick was using chartreuse/red and chartreuse/orange jigs and was fishing in 18 feet of water.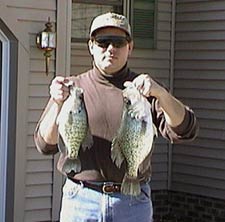 Here's a picture of the big crappie beside another that weighed in at 1.77 pounds. These fish were caught within 30 seconds of each other.
We keep telling you about this new mapping software from Kentucky Hydrografx and as they say, "The proof is in the pudding". Patrick has only fished this area 4 times in his life, and as you can see, the knowledge he's gained from the mapping of this area has really paid off.
If someone can catch fish like these on just his 4th trip, just think what this software can do for you. For more information on Kentucky Hydrografx mapping software...go here. It's probably the best fishing investment you will ever make.