Home
Sporting Goods, Bait and Tackle
Hunting Stories and Information
Fishing Stories
and Information

KENTUCKY LAKE DUCK HUNTING PICTURES
courtesy of: Steve McCadams

Duck hunting has picked up lately as these pictures from Steve McCadams attest to. A great start to what looks to be a great season ahead.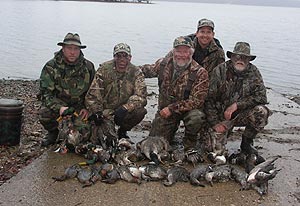 McMillon group from Edgefield, SC. 22 ducks with mallards, gadwall, pintail, widgeon, ringneck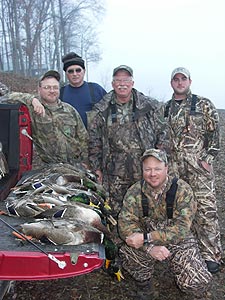 Doug/Danny Perry, Dahlonega, GA; Billy Robinson &Stuart Hanckel Charleston, SC, Howard Smith/Brant Davidson, Dahlonega, GA. 36 ducks, 1 Canada goose
Give Steve a call now to book your hunt: (731) 642-0360
Steve McCadams is a professional hunting and fishing guide here in the Paris Landing area. He has also contributed many outdoor oriented articles to various national publications.