Home
Sporting Goods, Bait and Tackle
Hunting Stories and Information
Fishing Stories
and Information

KENTUCKY LAKE CATFISH

Ken Riddick is known for his crappie fishing. But when you guide for crappie as much as he does, sometimes you need to take a break. You'd think maybe he wants to go golfing, swimming or just lounging around after a busy spring chasing crappie. Ken gets away from his crappie fishing by going catfishing, and he caught a pretty nice catfish in June, a 48 pounder to be exact.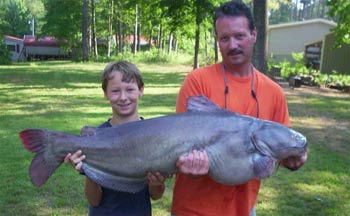 Kentucky Lake Guide Ken Riddick & Son Lucas
Ken was fishing with his dad and his son when they hooked this brute while floating jugs on the main river channel. He was fishing marinated hot dogs 18 feet deep when this monster took the jug down. It was down for a good 7-8 minutes before resurfacing about 20 feet from the original spot. After a few unsuccessful swipes of the net, they brought this fish in, and the fight didn't end there. A fish this big is a handful even when you get it in the boat.
They were done with catfishing for the day after bringing that one in (about 8:00 a.m.). It was their first and only catfish of the day. They went in for a while and came back out on the lake later that day to do what else ....Crappie fish. Some folks just have it in their blood.
For more information on Ken Riddick and his Crappie Action Guide Service, and for plenty of fishing pictures...visit his webpage