Home
Sporting Goods, Bait and Tackle
Hunting Stories and Information
Fishing Stories
and Information
This page brought to you by: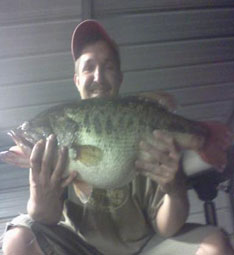 CRAIG'S 11-POUND BASS RAISES THE BAR

Adam Craig of Buchanan may have had his best fishing day of the year last week and the season just got started. In fact, it may have been his best fishing trip ever as he sure raised the bar for bass anglers around here with the trophy catch.

While fishing Kentucky Lake in one of the weekly afternoon buddy bass open events he boated to one of his hotspots and tossed a Bill Lewis Rattle-Trap out in shallow water and slowly cranked. The blue and gold colored crankbait fell prey to a lunker largemouth to the tune of 11.05 pounds!

The list of area bass anglers who have landed a largemouth from Kentucky Lake exceeding the 10-pound threshold is pretty short but there are a few entries. Raise the bar up to 11 pounds and it's a rather elite list. Make that extremely elite.

Needless to say Craig's catch was the big fish of the afternoon and helped him win that day with a total stringer weight of 19.99 pounds. Yet the win was a moot point as the trophy bass catch of a lifetime is still on his mind. It was indeed his biggest bass ever.

And yes, he does plan to have the trophy mounted as it already has a date with Paris taxidermist Dickie Wooten.

Craig fishes a lot of local tournaments and also competes in FLW's Wal-Mart BFL Division. Last Sunday he was casting away in the LBL Division event here on Kentucky Lake after catching the big fish the previous Wednesday afternoon.

Unfortunately, he had used up his luck on the big fish earlier in the week but he said he was glad to have landed the lunker even if it wasn't during a big tournament as the catch alone was more than enough payback.

"I've seen a lot more big bass come from Kentucky Lake the last two years but it's even sweeter when one of them is on your own line," said Craig, who often fishes buddy event with his dad Spencer of Paris.

Congratulations to Craig on the big bass as he will be the talk of the tournament trails for quite some time as to big fish honors and rightfully so. After all, how many people do you know that have landed an 11-pounder from Kentucky Lake?