Home
Sporting Goods, Bait and Tackle
Hunting Stories and Information
Fishing Stories
and Information
HANK JR. AND TRAVIS TRITT
TEAM UP FOR CRAPPIE
(KENTUCKY LAKE LURES LEGENDS)
by Steve McCadams
www.stevemccadams.com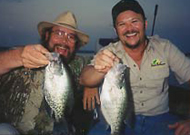 It was a great day to be alive and these two country boys could indeed survive as the setting sun over Kentucky Lake drew the curtain on a warm spring afternoon.
Far from the spotlights and roaring crowds were two country music legends whose southern roots shared more than just picking and grinning. It was also their love of the great outdoors that brought them together on this dogwood afternoon on Kentucky Lake during the crappie spawn.
Last week I shared my floating home away from home with Hank Williams, Jr., and Travis Tritt as we cast light tackle for slab crappie here in the Paris Landing area. These two giants of the entertainment world were here to tangle with some giants of the fishing world, namely Kentucky Lake slab crappie.
Both had set aside some time between tour dates and recording new albums to link up here and just lay back and absorb it all. Each spring Hank loves to tangle with a few crappie and toss them into a skillet, rendering a golden brown fish fry of his own crappie fillets.
Hank had invited Tritt up for a Tennessee weekend where catching fish and roaming the woods for a strutting gobbler were all part of the deal.
"This is sure beautiful country and you're lucky to have this great lake around you," said Tritt, who grew up in southern Georgia and still calls it home. "It's amazing to have these rolling hills and woods along the shoreline. Good fishing and hunting right here at your door without the crowds."
"That's one of the reasons I'm here," said Hank, pointing to the ridges where he hunted deer and turkey for years with pal Bill Dyer. "And these slab crappie are some of the biggest in the country. That's why they call it the "Crappie Capital", he chuckled.
After a week of high winds and cool weather, I chose to hit a few crappie beds in the 6 to 10 foot zone where the fish were moving up and on the verge of spawning. Things had been pretty slow and the fish were inconsistent as to their whereabouts. A day or so later I would fill the cooler from these same spots but it was a one-here, one-there scenario on this outing.
Light spinning gear was the approach we took, tossing 1/8-ounce curly tail grubs on six-pound line around submerged structure, which I'd placed in the lake during the winter months.
After a few snags and light hits, we corralled four dandy crappie from one spot. After repeated casts to the same locale, Travis set the hook and the rod bent double. Hank had given him a light action, Loomis rod and the slab crappie on the other end was putting it to a test.
"Take it easy and don't horse him," said Hank, reaching for the net as the big fish rolled up to the surface.
"All right. Man what a fish," said Tritt, grinning from ear to ear as he hoisted the big slab chest high. While he and Hank admired the slab I grabbed a camera and took a shot or two.
It was only a matter of minutes before these two tunesmiths broke into song and shared several memories of past and present happenings in their musical world. Both have written songs which reflect their admiration for the outdoors and on this day it was again a destination and outlet for them.
"I've been working on a new album and it's about half finished," responded Tritt, as I asked him when he would hit the road again and resume a busy concert schedule. "I'm headed back to Nashville from here and plan to complete it in May. Then, I'll do a couple of shows in southern Georgia and Florida before starting a long tour late this summer."
In-between casts the two talked a little music and shared laughs about various artists in the industry. They bounced a few ideas off each other, clearly showing their mutual respect.
"I'll bet it's a sight here in the fall with all these hardwoods around the lake," continued Tritt. "Down in Georgia we're getting a lot of clear cutting and it's sad to see the scars on the hillsides."
"Same thing here," said Hank, pointing to a ridge in Stewart County where logging had left a somewhat barren hilltop."
With a few interruptions from some dark male crappie loading onto swimming jigs, we meandered a slow path for a few hours. Stops here and there produced a few fish as a gale wind whipped the boat around and made casting to the specific spot somewhat of a challenge.
"Do you like to hunt and fish," I asked Travis as we motored back into Eagle Creek. "Man I love it. My father-in-law operates a bird-hunting farm down in Florida where he trains dogs on his quail preserve. It's a sight to see those dogs work and go from a dead run to a frozen point."
After two afternoons of testing the waters of Kentucky Lake we shook hands and went our separate ways. Both these icons of the country music world would go back to the demands of their business yet somewhat relaxed from the outings.
Over the years Hank has taken more time to enjoy the great outdoors. From African safaris to extended stays at his ranch in Montana, Bocephus loves the smell of a campfire and often extends the invitation to some of his rowdy friends.
After a couple of photos on the lake, we traded handshakes and used up the last of the light. I asked both to help me with an item or two for my upcoming "Casting For A Cure" Kids Fishing Rodeo and both agreed to with enthusiasm and interest.
A couple of autograph seekers got word of the celebrities on hand and greeted us at the dock, pen in hand. After signing a couple of tee shirts and a parting goodbye to the crappie on ice, Hank and Travis headed west.
While it may be a spell before these two get together again here on Kentucky Lake, their voices are never far apart as my truck radio filled the cab with Tritt's voice on "Where Corn Don't Grow" and Hank's "Family Tradition".
Funny how just a few minutes earlier these two outdoor lovin' men were here on Kentucky Lake with me in the boat and now also riding home with me courtesy of a Dee-jay somewhere. Ain't that something?
For more pictures from Hank and Travis...click here

Steve McCadams
is a professional hunting and fishing guide here in the Paris Landing area and host of The Outdoor Channel's television series IN-PURSUIT.