HANK WILLIAMS JR. AND TRAVIS TRITT
TEAM UP ON CRAPPIE
by Steve McCadams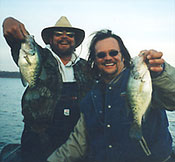 Dogwoods sang a silent serenade from across the hills and hollows. All along the ridges were little white clusters whose blooms signaled crappie spawning on Kentucky Lake was underway.
Hank Williams Jr. and Travis Tritt wasted no time in teaming up on the area's most popular gamefish. The idea of a tug on the line from some hungry slabs and the sight of a few golden brown fillets had the two country music legends singing in the sun.
From the gobble of a turkey to the splash of a crappie topping the water about to be netted, the sights and sounds were just where these two guys wanted to be on a cool spring morning.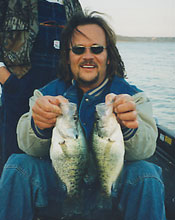 After a week of shows in the Midwest, Travis headed to Paris where Hank had arranged for our spring crappie outing. We shared a few afternoons together last year only to face high winds and stubborn fish but this year things went our way, despite a cold front the previous day that pushed the crappie back a bit.
"Travis will be coming in from a show in Oklahoma on Saturday night so we'll chase a turkey or two and meet you Monday morning," said Hank, hoping to link up with some shallow water crappie.
"Sounds good to me and let's hope the wind doesn't blow too bad," I replied, especially since I had battled white caps for three days in a row.
Each spring Hank loves to put a few crappie in the freezer but dropping some in hot grease is even better. For years we've shared spring mornings searching for slabs and this time it was another opportunity to share a boat with Tritt, himself a deep southerner whose roots still cling to Georgia soil.
We had planned to toss some light jigs with spinning tackle but the wind changed our approach somewhat. Switching to a vertical presentation of 1/8-ounce tube jigs around submerged stakebeds I planted during the cold winter months proved to be a hot number.
Our first stop quickly saw a hook set and a bent rod as Hank yanked in a black crappie that fell prey to the white and chartreuse skirt tipped with a minnow. Travis wasted no time in adjusting to the feel of light line and structure. After a snag or two he adapted fast to the light hits from finicky crappie bites.
"You got the life out here with all these fish," grinned Tritt, as he landed another crappie that commanded a net this time around. "Do you ever get tired of fishing and hunting," he asked?
Before I could answer Hank was testing the tackle with another crappie that hit the jig on the fall. It was a very light hit but a pretty decent size crappie.
"Better believe he gets tired of it," Hank answered for me. "Those cold, windy days when it rains and the fish don't bite or the ducks don't fly. Everyone thinks a guide has it made. There's a lot of bad days out here but I'm glad we got a pretty one today."
Working from bed to bed, we managed to find a few fish on each spot but somewhat scattered, a likely change from a nasty cold front the day before. Fish had been in shallow water for over a week with some aggressive behavior but bone chilling north winds can quickly alter the mood.
By late afternoon we had covered the ice with about 40 to 50 crappie. Our efforts had paid off as we stalked the flats of Big Sandy in the 6 to 10 foot range.
Swapping stories and trading jokes was standard fare. Hank and I recalled some fishing trips from yesteryear on crappie, bluegill and a few bass. Old Bill Dyer stories were as much a part of the trip as the pole bending crappie. Our late friend had loved the call of the wild and fished and hunted the same waters in times past.
This time last year Tritt was just completing his new album and I recalled him singing a few verses of what I thought would be a good tune. Turns out the new album was finished shortly after our trip last year and his new single "Country Ain't Country No More" was doing great.
A demanding tour schedule kept him busy but there was enough time on the road for a Tennessee visit. After all, it's not everyday you get invited to Hank's house to hunt turkey and catch crappie!
The afternoon before our fishing trip had the two country legends deep in the woods and singing to wild turkeys who, like thousands of their fans, found the music irresistible. Hank called up a turkey within close range and Travis was right on the mark, bagging his first gobbler.
Their music had brought them together over the years and the call of the wild rekindle the friendship as it often does for so many different people. Sharing a day on the lake or listening softly to the distant cluck of a turkey somewhere on a distant ridge. There's no wonder why many of their songs have a reflection of deep southern traditions of the great outdoors.
Time flies when you're having fun and this day was no exception. A good time was had by all.
Two guys who love the outdoors and cherish the time and place. Laid back and soaking up some sun with no one tugging on their sleeve except a hungry Kentucky Lake crappie now and then. A departure from bright lights, roaring crowds, and legions of folks wanting some of their time.
On this day things were different. And that's why they were here!
Steve McCadams
is a professional hunting and fishing guide here in the Paris Landing area and host of The Outdoor Channel's television series IN-PURSUIT.