Home
Sporting Goods, Bait and Tackle
Hunting Stories and Information
Fishing Stories
and Information
GOOSE KIDS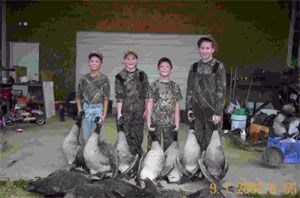 No goose egg here! These young hunters helped bag 12 geese on the opening day of Tennessee's early goose season, which runs through September 15. Pictured (l to r) are Paris hunters Drake Williams, 10; Ashley Belew, 9; Garrett Minor, 9; and Amanda Belew, 12; The crew was hunting near Kentucky Lake.
Photo: Steve McCadams
Steve McCadams
is a professional hunting and fishing guide here in the Paris Landing area. He has also contributed many outdoor oriented articles to various national publications.