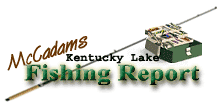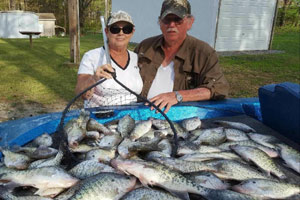 Jane and Tom from TN 2017
Kentucky Lake Crappie Fishing
"1 pole jig fishing"
Crappie Action Guide Service


FALL FISHING KICKS IN


Cooler conditions have kick-started an early fall for Kentucky Lake anglers and no one is complaining.

Surface temperatures have dropped to the 76 degree range this week and may drop another degree or two by this weekend. There is indeed a nip in the air!

Long sleeve shirts and light jackets are normal attire lately on the early morning outings. It feels great out there lately and the fish are liking it too.

A cool snap actually arrived in late August just prior to the Labor Day weekend and set the stage for early fall weather. After a warm day or two another cool front descended on Tuesday, preceded by heavy rains and thunderstorms which blew through quickly, escorted by north winds that dropped temperatures.

Cooler surface temperatures will likely have a positive impact on bass and crappie. The change has already had a positive impact on anglers who were glad to put the hot and humid days of summer in their rearview mirrors.

Surface temperatures this week have fallen into the 75 to 76 degree range. Water color in dingy in many bays and up Big Sandy and into West Sandy. The main river channel in dingy as well but the open water around Paris Landing is in good shape for fishing.

Along with fall air temperatures have come falling lake levels. TVA really pushed some water through the system last week in the aftermath of Hurricane Harvey's backwash.

Presently, the reservoir is resting around the 355 range in the Kentucky Dam area. Upstream around New Johnsonville the elevation is 355.4.The reservoir has been falling the last several days and has pulled a lot of the muddy water out to the main channel so secondary bays should improve quickly.

The weather forecast is great the rest of the week and into the weekend. Forecasters are keeping an eye on Hurricane Irma that could hit the east coast of Florida soon and influence the weather picture to some degree.

Meanwhile, night temps have fallen into the low 50's and daytime highs are in the pleasant 70's with lower humidity.

Such conditions will stimulate movement of schooling shad to move shallows this week, bringing bass and crappie with them. It appears nice days are in the fishing scene.

A few decent stringers of bass have been taken this week from shallow water where anglers are tossing some topwater jerk baits and buzzbaits, along with floating fluke style presentations. Shad colored crankbaits on gravel banks and around bridge piers or roadbeds have worked too.

Rattle trap style lures have worked as well for a few boats who are targeting shallow flats out on the main lake in hopes of finding a few schooling fish running shad and busting the surface.

Unfortunately, there is no aquatic vegetation to speak of anywhere around so anglers hoping to hit the fall grass patterns are out of luck. Still, some rocky banks and rip-rap areas are beginning to see some activity from shallow fish moving in at early morning and late afternoon periods.

There's always a few boats staying with the ledge pattern too. There's been an abundance of current lately so that has appealed to ledge fishermen working drop-offs near deep water.

Crappie showed some improvement as more fish were moving up to shallow structure in the 6 to 12 foot zones. Falling lake levels may have pulled a few fish back to deeper venues, however, in the last few days.

Boats slow trolling crankbaits along eastern bays have scored some decent stringers lately but fish have been scattered and suspended at times.

Midrange depths of 8 to 13 feet have given up a few more fish this week as the crappie parked there and found a comfort zone. Anglers vertical fishing jigs or jigs tipped with minnows were scoring good numbers but still having to cull a lot of small fish.

Pesky yellow bass are abundant in the midrange stakebeds and brushpiles too but it comes with the territory this time of year. They're fun to catch and not bad to eat but most anglers choose to release the smaller ones who possess an endless appetite and a fight to the finish attitude.

A few fish have lingered on the deep sides of main lake ledges, residing in 17 to 20 foot depths where submerged structure appealed to them. Tightlining a jig or a live minnow on bottom bumping rigs has paid dividends.

Several jig color combinations have worked ranging from blue/white to pink/chartreuse at times. Also some shad colored variations with blue metal flake have worked when water was clear.

A few catfish were taken around the piers at Paris Landing Bridge when light current was present. Depths of 20 to 25 feet gave up some decent stringers for anglers using nightcrawlers.

Fall doesn't officially arrive until September 22 but fall weather and fishing conditions are already here! It's a great time to be fishing as a lot of recreational boaters hibernate once the Labor Day holiday passes. The peaceful setting is well worth the trip!


Also check out our past:
Kentucky Lake Fishing Reports

Steve McCadams is one of the nation's best known Crappie Fishermen and a full time resident of Paris, Tennessee. Steve is also a professional hunting and fishing guide here in the Paris Landing area.