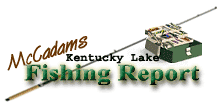 SEPTEMBER START REMINDS ANGLERS SUMMERíS STILL HERE



Kentucky Lake anglers turned the calendar pages this week, saying goodbye to August but it appears Septemberís start reminded anglers summer is still in charge.

Warm weather remains in the forecast as the long Labor Day weekend arrives, which is good news for a lot of recreational boaters, swimmers, and skiers wanting one last fling before summer loses its grip. The warm weekend ahead should be to their liking.

A look at the big weather picture shows the jet stream jumping back to our north, which is why warmer conditions have dominated. Back in August we got a reprieve with fall like conditions for a few days. Not to worry, however, as cooler days will return soon.

Surface temperatures this week have been in the 80 to 83 degree range. As days grow shorter and another cool spell enters the forecast anglers will see the water fall back into the mid 70ís soon and that will stimulate fall fishing patterns.

Lake levels have fallen slowly this week after a slight rise of a few inches earlier in the week and are back down around the 356.1 range at Kentucky Dam. Upstream at New Johnsonville elevation is forecast to be in the 359.1 range this weekend. Water color remains clear.

Aquatic vegetation is abundant in the shallow flats and backwater bays up and down the Tennessee River. Not as much vegetation is present in the Big Sandy embayment.

Bass anglers are targeting the massive grassbeds and searching for baitfish. Most anglers hitting the water during the early morning hours or late afternoon are tossing topwater such as weedless frogs, floating fluke style worms, jerk baits and buzzbaits.

When the sun is up and lowlight conditions fade away most are turning to Texas rigged worms, spinnerbaits, and ripping rattle trap style baits around the parameters where submerged grass mats are deeper or near cuts and ditches.

A few boats are still banging away at main lake ledges with the typical summer menu presentation of swim baits, big Texas rigged worms, deep diving crankbaits, jig and craw combos and Carolina or Alabama rigs. Warm surface temps and slow falling lake levels seemed to help the ledge bite a few days.

Crappie have been caught this week in midrange depths of 11 to 14 feet by anglers using vertical presentations of jigs and jigs tipped with minnows or Berkley power bait. The overall bite has been fair although big numbers are not being reported.

Most anglers are working stakebeds and brushpiles in the midrange depths but having to make several different stops in their quest to find a few scattered keeper size fish. Others are slow trolling crankbaits over main lake drop-offs and finding a few fish taking chartreuse colored deep diving plugs.

The fish have been a bit sluggish at midday once the sun rises and winds die down. Once cloudy days and cool weather returns watch for activity to improve.

Schools of shad have begun to move up toward shallow flats already and the crappie will be hot on their trail with a surge in interest levels during the weeks ahead as surface temps fall back a few degrees.

The shallow bite hasnít taken off just yet but be patient; itís coming with the next cool front.

From the catfish department have some mediocre reports. Not many anglers have been scoring big stringers as of late. A slight amount of current has been present too in the main river channel, a scenario that usually stimulates the bite.

Fall fishing patterns have yet to materialize but all it takes are a few cool days and chilly nights to start the transition.



Also check out our past:
Kentucky Lake Fishing Reports

Steve McCadams is one of the nation's best known Crappie Fishermen and a full time resident of Paris, Tennessee. Steve is also a professional hunting and fishing guide here in the Paris Landing area.