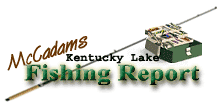 COOLER TEMPS HEAT UP FALL FISHING SCENE


Practically everyone had an attitude adjustment this week. Anglers and hunters had more pep in their step thanks to an overdue cool snap that finally made it feel like fall had arrived.

Thanks to cooler days and nights surface temperatures have fallen back into the 75 to 77 degree range for the first time since back in mid-April. Those readings are down about eight to ten degrees from last week at this time.

Lake levels continue to fall slowly on Kentucky Lake and elevation at midweek was in the 354.8 range at New Johnsonville. Downstream at Kentucky Dam the elevation was 354.9. The present levels are down a few inches from last week at this time and close to the low ebb of winter pool.

Lower lake levels throughout the fall and winter months are normal here as TVAís curve prepares the reservoir for more storage capacity.

Water color remains clear across most of the reservoir. Not much rain has fallen across the watershed this week.

Crappie showed improvement this week. Actually, activity began improving last week during the hot spell but should be even better later this week and into next week as cooler conditions should improve the overall bite.

Several fish are occupying midrange brushpiles and stakebeds in the 8 to 13 foot depth range. A few fish have been taken deeper as well, especially since falling lake levels likely pulled fish out of shallow venues earlier this week.

Although fall is known for stable weather and light winds, there have been a few days on the front edge of the cold front where high winds hampered crappie anglers attempting to work main lake areas. The annoying winds were short lived as calm days and some cloud cover returned to provide nice conditions.

Stable weather is in the forecast for the next several days. That should help keep anglers in a good mood.

A lot of crappie are showing interest in live minnows and jigs tipped with minnows too. Also, jigs in the black/chartreuse, chartreuse/red and similar variations have also been appealing, especially when tipped with Berkley power bait.

The fall bite should continue to improve but there are already pretty good numbers of fish showing up. Anglers can expect to encounter a lot of fish just shy of the 10-inch minimum length limit but there are also some keeper size fish hanging out right in there with them.

The present population of crappie on Kentucky Lake is dominated by the 2014 year class. It takes approximately three years for a crappie to achieve the 10-inch length as to growth rates here. Thatís why anglers are seeing so many fish just shy of the 10-inch threshold.

The good news is that a lot of fish are coming on strong so by next March and April anglers should see a lot more keeper size fish out there.

A few boats are working deeper ledges with jigs and bottom bumping minnow rigs and landing some fish out of deep structure located in the 17 to 20 foot depth range.

Bass activity has been off a bit this week but may improve with the cooler surface temps as more fish move shallow.

Several boats continues to fish ledges and main lake flats. Others are targeting gravel points and shallow roadbeds.

Despite lower lake levels this week no grassbeds are showing up. The aquatic vegetation pattern is must not part of the bass fishing picture this year.

Just why the grass disappeared in somewhat of a mystery to most. Odds are the high water earlier this year played a role in its demise but the jury is still out on why some fragments of vegetation havenít returned.

Ledge fishermen are still tossing shad colored crankbaits and a few swim baits. Some are hopping a jig and pig combo or using Texas rigged worms.

Other patterns producing have been chartreuse and blue skirted spinnerbaits with gold willow leaf blades. Tossing spinnerbaits around some shallow crappie beds, stumps and along open sloping flats has produced a few fish as well.

There havenít been many reports coming in from successful topwater patterns lately. Perhaps the cooler surface temps could also enhance that presentation soon.

As always itís important to pay close attention to channel markers this time of year when lower lake levels arrive. Itís best to avoid the shortcuts across those open water flats and follow the buoys enroute to your favorite fishing spot.

Resist the temptation to throw caution to the wind. Follow the marked channels and youíll get there safe and sound without damage to you or your boat!


Also check out our past:
Kentucky Lake Fishing Reports

Steve McCadams is one of the nation's best known Crappie Fishermen and a full time resident of Paris, Tennessee. Steve is also a professional hunting and fishing guide here in the Paris Landing area.