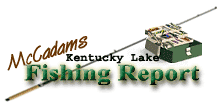 ANGLERS YEARN FOR NORMAL FALL CONDITIONS


For the lion's share of September Kentucky Lake's fishing scene has been dominated by above average temperatures. A series of 90-degree plus days have prolonged a stubborn summer season reluctant to lose its grip.

Fall officially arrived on Thursday but summer weather continues to deal the cards. Fishermen are ready to wave goodbye to the hot and humid days. Even the nights have been above average, a situation that has not allowed surface temperatures to cool much.

Despite the duration of warm weather fishing has been pretty good this week for crappie and bass anglers. Crappie showed improvement with a lot of fish now residing in the 9 to 12 foot zone.

Big numbers of fish were taken the last few days by anglers vertical fishing the midrange depths. In fact, a few triple digit days have been reported by anglers tipping jigs with minnows or Berkley power bait.

While a lot of small fish are biting, there are enough keeper size ones mixed in to keep it interesting and enjoyable. Catching big numbers of crappie should continue throughout the fall.

Biologists in both Kentucky and Tennessee say a strong year class from 2014 is dominating the crappie population. That means a lot of those fish just shy of the 10-inch minimum length limit should be paving the way for a rebound next spring too.

Meanwhile, anglers are culling several fish but you will encounter some good ones at times sharing the same spots, not to mention a surprise catfish now and then.

Lake levels this week have lingered around the 355.5 range in the New Johnsonville area. Downstream at Kentucky Dam lake stages are in the 355.6 range. Water color is clear.

Surface temperatures reflect the unusually warm weather we've experienced for several weeks. Readings are starting out around 82 degrees in the morning and climbing to 85 at midday.

Bass fishermen are finding enough fish to keep them amused too. Despite a lack of grassbeds anglers are adjusting their approach and stalking gravel banks and targeting main lake sandbars and flats.

There have been several stagnant days where very little wind helped the cause. Not much current has been present either. Added to the challenge has been very little cloud cover, which has pretty much shut down the midday bite.

There have been some decent stringers taken by anglers working submerged structure on drop-offs. Most of the decent stringers have been caught by anglers backing off the banks, tossing big spinnerbaits, swim baits and shad colored crankbaits.

The shallow bite could take hold quickly if some cloudy, rainy days enter the picture.

Hopefully the weather patterns will change toward cooler conditions soon and normal fall like temperatures will take over. Wave goodbye to hot summer that separated the men from the boys on those sultry days that seem to come in bunches like grapes!


Also check out our past:
Kentucky Lake Fishing Reports

Steve McCadams is one of the nation's best known Crappie Fishermen and a full time resident of Paris, Tennessee. Steve is also a professional hunting and fishing guide here in the Paris Landing area.