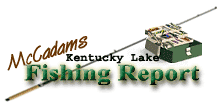 CRAPPIE HEAD SHALLOW…FISH RESPOND FAVORABLY TO FALL CONDITIONS


Fall fishing officially begins next Tuesday when summer loses it place on the calendar. Autumn angling has already been underway however, as Kentucky Lake anglers began implementing fall patterns back in early September.

Last weekend's cool snap really put fishermen in the fall mode as temps fell to the upper 50's at night and creped slowly toward the low to mid 70's by day. That commanded a light jacket for fishermen who got out on the lake for early morning outings and it felt great.

After a warm weekend the weatherman says another cool snap is on the way and should arrive early next week. Fall conditions are indeed changing the fishing scene.

Surface temperatures responded favorably and have already fallen back into the 76 degree range this week, down three or four degrees from last week at this time. Water color remains clear across the reservoir.

Kentucky Lake's elevation continues on its slow path toward winter pool and has dropped a few inches since last week. Lake levels at Kentucky Dam will be in the 355.6 range by the weekend and slightly lower upstream at New Johnsonville where readings are projected to be in the 355.4 range.

Bass activity has been fair this week but fish backed off last weekend as the cold front arrived with north winds. Seems the fish had a mood swing for a few days but rebounded at midweek as light southwest winds returned with cloud cover.

Grassbeds have been holding decent numbers of bass but action has been spotty as there is so much visible vegetation that everything looks good. Anglers have to cover a lot of water to find fish and most have been tossing spinnerbaits on the parameters of thick grass while using weedless lures on top of the thicker mats.

Some decent surface activity took place at midweek as shad began to show up in the early morning and late afternoon periods and took advantage of midge hatches. The tiny insects hatch in lowlight conditions and the baitfish respond by surface feeding themselves and the bass are usually there too.

Some boats are targeting gravel points, roadbeds, and rocky points with shad colored crankbaits while others pond some main lake ledges with the popular summer presentations of big crankbaits, jig and craw combos, swim baits, and Texas rigged worms.

Watch for more bass to move up toward shallow gravel banks and flats as surface temps fall.

Crappie fishing has improved lately with more fish moving up and occupying stakebeds and brushpiles in the 8 to 12 foot depth range. A few have been taken in 4 to 7 foot depths already. On cloudy days fish have been more aggressive.

Most have been vertical fishing 1/16 and 1/8-ounce jigs around structure and often tipping with either a minnow or chartreuse or white Berkley power bait. Popular colors have ranged from red/chartreuse to blue/white, pink/chartreuse and some dull colors such as motor oil with gold glitter and clear with metal flake.

Each year crappie begin their fall transition in early September and follow their forage toward shallow areas. Many anglers overlook the fall fishing but stable weather and light winds usually produce good fishing conditions. Lower lake levels intimidate some anglers yet paying attention to channel markers and taking it easy in unfamiliar areas will allow anglers to maneuver just fine.

Look for crappie fishing to hold up well the next few weeks. If you endured the nasty spring when cold temperatures and bone chilling winds dominated then give fall fishing a chance. Odds are in your favor for pleasant weather.

A few anglers are targeting catfish beneath the Paris Landing Bridge and along the Tennessee River channel bank yet overall action has been fair at best. One exception was a monster flathead catfish taken Monday by Kathy Phiffer of Greenfield.

While using only 20-pound test line on her rod and reel she managed to land the lunker that tipped the scales at 51 pounds! She was fishing near the New McWherter Bridge at Paris Landing.


Also check out our past:
Kentucky Lake Fishing Reports

Steve McCadams is one of the nation's best known Crappie Fishermen and a full time resident of Paris, Tennessee. Steve is also a professional hunting and fishing guide here in the Paris Landing area.