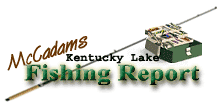 AN EARLY FALL?... KENTUCKY LAKEíS FISHING SCENE HOPES SO


A long overdue cool snap will bring a drastic change to the Kentucky Lake fishing scene this weekend. Anglers are anxiously awaiting autumn weather and it would suit just about everyone if fall decided to push up the timetable.

Above average temperatures have challenged the overall fishing scene lately and both bass and crappie anglers have been struggling to find and catch consistent stringers of fish. No doubt a lack of rain and the extended summer heat have been factors as surface temperatures have stayed high.

Earlier this week the surface temperatures were staying in the 85 degree range, which is a bit above the norm for the second week in September. Watch for readings to drop several degrees by early next week as chilly nights and cooler days are in the forecast.

Odds are some foggy mornings are ahead as the air will be much cooler than the water. It is indeed time for those jacket mornings and shirt sleeve afternoons to replace the heat and humidity that have dominated.

Lake levels projected for the weekend will see an elevation of 356 at Kentucky Dam. Upstream at New Johnsonville elevation is projected to be 355.8.

Fall crappie patterns should kick in by early next week as surface temps fall back into the low to mid 70ís. A few fish have already shown signs of moving up into the 8 to 11 foot depth range this week but the overall bite has been sluggish.

Fish have been finicky and reluctant to strike a bait with much enthusiasm. Strikes are extremely light as the fish just havenít been aggressive. That could change quickly as the approaching cool snap should have a positive effect on the overall crappie picture.

Baitfish schools have already been moving up into shallow flats out on the main lake. More baitfish should begin moving up into bigger bays in the days ahead, bringing the crappie with them.

Most boats have been vertical fishing jigs and live minnows around midrange depths where stakebeds and brush are located but scattered best describes the bite as of late.

Those anglers stalking deep water with slow trolling techniques or spider rigging have landed several small fish but found the bigger fish winning the game of hide-and-go-seek. Others finding a few decent size fish in shallow areas have not been able to chalk up much in the way of numbers.

The next few days should see a lot of transition taking place.

Bass fishermen have also felt the decline in catch rates the last week or two. Stagnant days when high temperatures and bright sun took over seemed to see the bass bite back off.

A few fish have been taken around grass beds lately by anglers working weedless frogs and fluke style floating lures. Others are targeting the parameters with spinnerbaits or Rattle Trap style lure presentations where submerged vegetation was giving up a few fish.

Some anglers are holding on to summer patterns and continue to toss big crankbaits, swim baits, jig and craw combos, and Carolina or Alabama rigs on main lake ledges. For most the bite has been pretty tough.

There have been some signs of a few bass chasing shad on top of main lake ledges this week. The cooler surface temps in the aftermath of the weather change may well improve the mood of sluggish bass too.

Watch for the fish and the fishermen to have an attitude adjustment courtesy of the cool snap now in progress.


Also check out our past:
Kentucky Lake Fishing Reports

Steve McCadams is one of the nation's best known Crappie Fishermen and a full time resident of Paris, Tennessee. Steve is also a professional hunting and fishing guide here in the Paris Landing area.