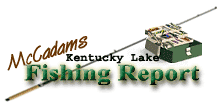 ANGLERS EMBRACE COOL SNAP

Kentucky Lake anglers are getting a dose of early fall weather and embracing it with open arms. Autumn doesnít officially arrive until September 23 but no one is complaining if it slips through the door early this year.

Hot and humid weather dominated until Thursday when rain and some thunderstorms escorted a cold front that really dropped temps and set the stage for a wonderful weekend. In fact, night time temps are forecast to drop into the mid to upper 50ís with daytime highs expected to be only in the mid 70ís this weekend.

It looks like a few jacket mornings and shirt sleeve afternoons are here!

Surface temperatures this week have been in the 82 to 83 degree range but will no doubt fall back into the upper 70ís in the days ahead. Water color has been clear across the reservoir.

Lake levels have been relatively stable this week. Elevation is forecast to be 356.1 at both Kentucky Dam and upstream at New Johnsonville throughout the weekend.

Crappie action improved this week and should be even better once surface temps fall back in the aftermath of the cool snap, setting the stage for some nice days this weekend and throughout next week.

Although the fish have been scattered they are showing more interest for anglers working jigs and minnows around 12 to 14 foot depths. Stakebeds and brushpiles are holding fish in that depth range and numbers should improve as more baitfish respond to cooler weather and move toward shallow areas.

Bass fishing has been fair with a lot of anglers targeting grassbeds with worms, spinnerbaits, topwater jerk baits, buzzbaits and assorted weedless lures. Several small fish have been taken this week around the grass where baitfish are present, although several reported diminished activity around grass.

With lower lake levels there so many acres of vegetation showing and it all looks good. However, grassbeds near deeper water have paid off best.

A few boats are backing off the banks and still favoring main lake ledges with jig and craw combos, big Texas and Carolina rigged worms, shaky heads, deep diving crankbaits and swimbaits. Some of the bigger bass have been taken on midrange structure and ledges but numbers have been low.

Cooler surface temperatures should see an improvement for topwater activity along gravel banks. Schools of shad have already begun to migrate toward rocky banks in the early morning and late afternoon hours.

Tossing shad colored crankbaits around gravel banks, docks, roadbeds and bridge piers will also produce.

Catfishermen rebounded some this week and a few scattered reports came in from anglers landing some while fishing beneath the Paris Landing Bridge and along the main Tennessee River channel around Standing Rock and upstream toward Leatherwood as well as downstream around Cypress Creek.

If youíve been waiting on cooler weather then wait no longer. Itís here!


Also check out our past:
Kentucky Lake Fishing Reports

Steve McCadams is one of the nation's best known Crappie Fishermen and a full time resident of Paris, Tennessee. Steve is also a professional hunting and fishing guide here in the Paris Landing area.