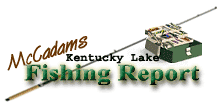 LEDGE BITE LINGERS FOR BASSERS

From the Kentucky Lake fishing scene comes word the summer bite is still holding up for bass anglers stalking the main lake ledges. Despite a long spell of hot and humid conditions with frequent thunderstorms passing through, anglers are still landing decent stringers.

Most working the drop-offs are tossing big 10-inch Texas rigged worms in the green pumpkin-pepper, black/blue fleck, red shad and Tequila sunrise color range.

Big deep diving crankbaits in shad variations are still working too as are some swim baits, jig and pig combos and hefty size spoons at times.

Not much aquatic vegetation is showing up this summer for shallow water style fishermen. Usually some milfoil, pondweed and mix hydrilla are visible by now but that has not been the case in the Paris Landing sector of the reservoir.

Anglers traveling further south are not seeing much around the New Johnsonville area compared to last year at this time.

Crappie have been sluggish lately and somewhat reluctant to bite for most boats working main lake areas where deeper stakebeds and brushpiles are located. Areas that were giving up a few fish a month ago have not been paying dividends as of late.

Some scattered crappie have been caught in structure throughout the 14 foot depth range. Some deeper cover in the 19 to 22 foot range has been holding fish too.

A lot of anglers are using live minnow presentations which is not uncommon during the hot summer months.

Catfishing has been a bit slow despite several days when current was present in the main river channel area. Moving water usually stimulates baitfish activity and enhances the deep channel bank bite.

That hasnít been the case for most catfishermen as not many success stories were coming in from boaters bouncing the bottom and working the cuts along the river channel where the typical summer bite is productive.

Lake levels this week have fluctuated a few inches and rose a bit in the aftermath of heavy thunderstorms across the TVA valley. Water color is slightly stained in some main channel areas but relatively clear across most of the reservoir and throughout Big Sandy.

Projections for the weekend are 358.6 for the Kentucky Dam area. Upstream around New Johnsonville lake levels will be in the 358.5 range. Surface temperatures is staying around the 85 to 87 degree range.


Also check out our past:
Kentucky Lake Fishing Reports

Steve McCadams is one of the nation's best known Crappie Fishermen and a full time resident of Paris, Tennessee. Steve is also a professional hunting and fishing guide here in the Paris Landing area.