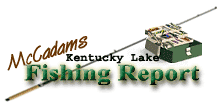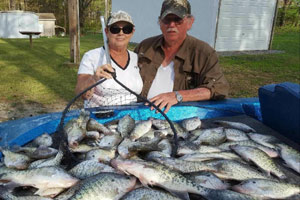 Jane and Tom from TN 2017
Kentucky Lake Crappie Fishing
Crappie Action Guide Service


LAKE LEVELS OF CONCERN

In the aftermath of Hurricane Harvey anglers along Kentucky Lake are monitoring lake levels and wondering just how much change is instore?

Heavy rains were in progress across the TVA valley that could see an increase in elevation by this weekend and well into next week. Just how high lake levels will rise remains to be seen.

At midweek TVA was pulling water and had the reservoir down to 355.7 at Kentucky Dam but upstream at New Johnsonville the elevation reflected a surge of water passing north as the level there was 356.3.

Water color in Big Sandy and West Sandy has been quite dingy while the Paris Landing area was sporting a good color for fishing.

Surface temperatures were in the 81 to 84 degree range.

Rising lake levels are no doubt part of the fishing future as lots of runoff will enter the Tennessee River system from the backwash of Hurricane Harvey. Sometimes rising lake levels scatter fish but the scenario can also push fish toward shallow water as they go on the prowl.

Odds are bass anglers will see fish move up quickly if lake levels inundate shoreline habitat this weekend. Anglers may trade in their deep diving crankbaits and big Texas rigged worms for the spinnerbait rods, shallow running crankbaits and smaller Texas rigged worms.

There could also be some topwater action around shallow structure if cloudy days linger.

Crappie fishing has been fair this week as anglers benefitted from cloudy days that help filter out the hot summer sunlight. That seemed to help the bite for anglers targeting midrange stakebeds in 9 to 13 feet.

Tipping black/chartreuse and pink/white color combinations with Berkley Power Bait or shiner minnows has worked well this week.

Crappie are likely to scatter and move up toward shallow areas these next few days. Thatís the norm when fast rising levels occur and stimulate baitfish movement toward secondary flats and backs of bays.

Vertical presentations of jig and minnows continues to produce. Also paying dividends have been crankbaits trolled on main lake river channels and sandbars. Some decent stringers have been taken in 12 to 15 foot depths near the river channel.

Catfish should move up toward shallow venues with the rising water this weekend and into next week. Catfish are one of the first species to respond to rising lake levels as they blitz to their prey and follow the schools of shad back into bays and up on shallow flats.

Should be an interesting week ahead for anglers!


Also check out our past:
Kentucky Lake Fishing Reports

Steve McCadams is one of the nation's best known Crappie Fishermen and a full time resident of Paris, Tennessee. Steve is also a professional hunting and fishing guide here in the Paris Landing area.