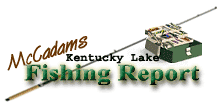 FALL LIKE WEATHER WAS NICE

Kentucky Lake anglers had a little pep in their step as most thought autumn had arrived early this week when temps dropped down into the low 50ís a couple of nights and cool days with low humidity took over. It appears warmer days are sneaking back into the picture however, as the weekend approaches.

It was a nice reprieve as any time you get fall like conditions in August itís a welcomed change. The cool snap sure stimulated thought from both fishermen and hunters anxious to speed of the transition of seasons.

Surface temperatures this week have cooled slowly and were resting in the 79 to 82 degree range. Lake levels have continued a slow and gradual fall as TVA pulls the reservoir down on its normal curve toward winter drawdown.

Elevation was projected to be 356.3 this weekend at both Kentucky Dam and upstream at New Johnsonville. Those readings are down several inches from last week at this time but normal for this time of year. Water color is clear across most of the reservoir.

Crappie fishing has been fair with several fish lingering in the midrange depths of 9 to 14 feet. Anglers using jigs or jigs tipped with either live shiner minnows or Berkley power bait in the white or chartreuse color are faring well.

Most report having to make several stops but deeper stakebeds and brushpiles are giving up a few scattered fish. The cooler mornings sure make it feel nice and both the fish and fishermen seemed to have a little pep in their step as a result.

Some deeper ledges are holding scattered crappie as well with a few fish relating to deep structure in the 16 to 20 foot depth range. Tightlining jigs and bottom bumping rigs armed with minnows have accounted for a few fish, although big numbers have not been the norm.

Trolling crankbaits along the main lake ledges is still a pattern being used by some boaters. A few crappie have been hanging around the drop-offs and this technique covers a lot of water and the multi-pole presentations with a menu of different colored lures can be productive at times.

Bass fishing has been fair with several anglers targeting the increasing acreage of grassbeds now exposing themselves as a result of lower lake levels. Plenty of vegetation awaits bass fishermen along the Tennessee River bays, flats and island rims.

Several anglers are tossing weedless frogs, fluke style worms, assorted jerk baits and buzzbaits over the parameters of grassbeds and open pockets within the grass.

Finding the baitfish in the grass or catching a spot with the wind blowing in on it has been key to finding some active fish which have also been taking Texas rigged worms and spinnerbaits.

Some anglers are holding on to the typical summer pattern of tossing big deep diving crankbaits, Texas rigged worms and jig and craw combos, not to mention swim baits. There has been a slight amount of current most days and that has worked in favor of ledge fishing this week.

Catfishing has been mediocre with scattered reports of activity along the main Tennessee River channel in depths of 5 to 35 feet. A few crappie fishermen are still tying into them while working midrange structure too.

Some catfish were also taken by boaters working the down current sides of the piers at the Ned McWherter Bridge by anglers using nightcrawlers.

August is about to lose it place on the calendar. That means autumn angling is growing closer day by day. Bring it on!


Also check out our past:
Kentucky Lake Fishing Reports

Steve McCadams is one of the nation's best known Crappie Fishermen and a full time resident of Paris, Tennessee. Steve is also a professional hunting and fishing guide here in the Paris Landing area.