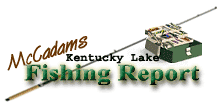 AUGUST ANGLING WINDS DOWN


By this time next week Kentucky Lake anglers will have turned the page on their calendars, paving the way for a new month that has a little bit of summer left in it but a little touch of fall as well.

Most anglers are ready to speed up the transition from summer to fall. The long spell of hot and humid weather hasnít been too favorable to fishermen these last few weeks.

Just knowing September is almost here and fall is fast approaching is reason for optimism. The dog days of summer took the bark out of most anglerís attempts to formulate consistent fishing patterns.

Not everyone has had tough luck but the overall fishing scene has been somewhat slow for the lionís share of bass, crappie and catfishermen.

Lake levels this week are down slightly from last week. Projections for the weekend show lake stages will be in the 356.5 range at Kentucky Dam. Upstream in the New Johnsonville sector elevation is projected to be in the 356.7 range by this weekend.

Water color is pretty much clear across the reservoir with a light stain in some sections of the main river. Surface temperatures have been in the 85 degree range this week.

A few bass anglers continue to find decent stringers coming from main lake ledges and humps. There has been a slight amount of current most days and that often helps the ledge bite.

Top producing lures have been big Texas rigged worms in the green pumpkin-pepper and Tequila sunrise color ranges. Jig and craw combos in black/blue and shad variations in the big crankbaits have also produced.

Crappie seemed sluggish again this week as not many decent stringers were showing up in the creel of anglers working main lake areas. Some boats were fishing ledges and stalking the deeper structure in the 18 to 20 foot depth range but bites were scattered with several small fishing showing up at times.

A few more keeper size fish were coming from deep stakebeds in the 14 foot depth range. Most fishermen are tipping jigs with either live minnows or Berkley power bait.

Watch for the crappie bite to show some improvement if cooler nights enter the picture and help lower the surface temperatures.

A few catfish were biting around the New McWherter Bridge at Paris Landing but despite the current fish were quite scattered. Not many hefty stringers have been reported this week.

September seems to always bring somewhat of a rebound with it. Most anglers are hoping thatís the case. August angling is about to be history.


Also check out our past:
Kentucky Lake Fishing Reports

Steve McCadams is one of the nation's best known Crappie Fishermen and a full time resident of Paris, Tennessee. Steve is also a professional hunting and fishing guide here in the Paris Landing area.