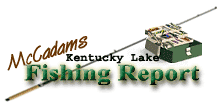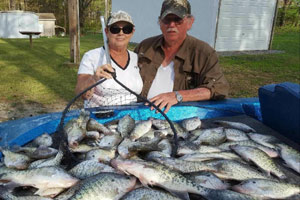 Jane and Tom from TN 2017
Kentucky Lake Crappie Fishing
Crappie Action Guide Service


RARE COOL SPELL FOR AUGUST ANGLERS


At midweek, in the aftermath of thunderstorms, a rare August cool snap descended and the change is suiting Kentucky Lake anglers just fine.

Lower humidity and temperatures arenít the norm in late August but no one is complaining. A touch of fall has indeed slipped in the door if only for a short stay.

A few more fishermen will likely test the water in the days ahead. Last weekís temps jumped in the low to mid 90ís most days as did earlier this week and that curtailed activity. A few bass fishermen were out in the early morning hours with only a token amount of catfish and crappie anglers.

Although not many boats have been on the lake the cool snap now in progress will likely stimulate activity from the fish and fishermen.

Surface temperatures this week have been in the 82 to 85 degree range. Anglers might see a drop in surface temps by this weekend as some cool nights are in the picture.

Lake levels have been falling slowly this week but some localized flooding on Tuesday may see the reservoir crest for a few days. Projected elevation for Kentucky Dam this weekend will be 356.9. Upstream at New Johnsonville the reservoir is projected to be in the 356.7 range.

Water color remains clear in the main lake but several bays are stained in the upper end after the thunderstorms. The upper end of Big Sandy also had muddy water entering at midweek.

There has been a little current this week as TVA has been pulling water most days through Kentucky Dam with enough volume to keep a little flow in the main channel areas.

The slow current has helped bass and catfishing at times. Bass anglers are finding main lake ledges paying dividends in a typical summer pattern.

Big Texas rigged worms are still producing as are shad colored variations of big deep diving crankbaits. Carolina rigged craws and worms have produced too as have some swim baits.

Fish are relating to main lake ledges and chasing baitfish up on the shallow sides of sandbars at times. Depths of 8 to 14 feet have been producing. Some boats are tossing a jig and craw at times too and working even deeper sides of ledges at times.

The summer crappie bite has been fair with a lot of small fish showing up in a variety of depths. A few fish have stayed in the 9 to 13 foot depth range where stakebeds are giving up several. Popular baits have been jigs tipped with minnows and just plain minnows at times.

When using live minnows expect to encounter an abundance of yellow bass in a variety of depths. The little rascals poses and endless appetite and a fight to the finish attitude. They donít grow very big but they think theyíre big!

Also producing have been the deep sides of main lake ledges where a few anglers are using tightline techniques and bumping bottom around deep brush piles and stumps in the 17 to 21 foot depth range. Live minnows have worked well.

A few boats are trolling crankbaits along the main river channel areas or around the mouth of bays that enter the main channel and finding suspended crappie playing their game. Depths of 12 to 15 feet have been productive as have a few zones even deeper.

Catfishermen havenít been out in force but a few scattered boats have targeted the edge of the main river channel and bumping bottom when current stimulated the bite. Depths of 25 to 30 feet have produced for anglers still relying on nightcrawlers and chicken livers for bait.

The overall fishing scene should see a little boost from the cooler conditions, lower surface temperatures and slow current in the days ahead.


Also check out our past:
Kentucky Lake Fishing Reports

Steve McCadams is one of the nation's best known Crappie Fishermen and a full time resident of Paris, Tennessee. Steve is also a professional hunting and fishing guide here in the Paris Landing area.