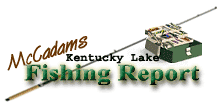 SLUGGISH SUMMER FOR ANGLERS

Kentucky Lake anglers have endured a sluggish summer fishing pattern as of late. Hot and humid weather seemed to have curtailed activity for most but the overall bite has been sluggish for bass, crappie and catfish anglers alike.

Seems the dog days of summer have put the fish in a lethargic mood. Yet there are always a few boats finding and catching fish here on the big pond.

Lake levels this week have been in the 356.8 range at both Kentucky Dam and upstream at New Johnsonville. That elevation is down slightly from last week at this time despite some heavy thunderstorms across the region that have dropped several inches of rain.

Most of the downpours have been localized but the amount of rainfall in this area for the month of August seems to be above average. Hardly a day goes by that thunderheads donít form in the afternoon sky and some lightning and thunder donít enter the picture.

That has cooled things off at times but it also has boaters keeping an eye in the sky when those clouds coming from the southwest darken and build.

Surface temperatures have been in the 86 degree range. No cool nights have come along lately to lower surface temperatures.

Water color is sporting a slight stain in several areas around Paris Landing due to recent runoff from thunderstorms but relatively clear elsewhere.

Bass fishermen are somewhat mystified this summer as to the lack of vegetation. Hardly any patches of aquatic vegetation such as Eurasian watermilfoil, pondweed, spiny leaf naiad or hydrilla are showing up.

From New Johnsonville on the south to Paris Landing and points further north, the grass beds are just not there. In times past when lake levels were lower fragments of grass would start reaching the surface in shallow flats and around island rims.

The lack of grass has thrown anglers a curve. Almost every bass fisherman targets the pods of grass during late summer and early fall as the vegetation has a reputation of holding baitfish and bass. It provides shelter from the shade and also gives small fish and forage a refuge from their predators.

Some bass are still relating to main lake ledges and will continue to do so for several more weeks. Some current has been present as TVA pulls water on a daily basis.

Big shad colored crankbaits, jig and craw combos, 10-inch size Texas rigged worms, Carolina rigged craws and swim baits have produced summer bass as have some big spoons at times.

Not all anglers are hitting the ledges as some fish have been taken in relatively shallow areas when schools of shad could be found.

Crappie have been slow for most anglers the last few weeks. The hot weather and high surface temps have not stimulated much activity.

There were some cloudy, rainy days where fish showed improvement and increased their interest level however. Some boats were slow trolling crankbaits and covering a lot of water but results have been mixed at best.

Watch for the crappie to improve as September approaches.

Catfishermen stalking the main river channel areas and working the piers around New McWherter Bridge have reported mediocre results. Most are fishing nightcrawlers in 24 to 35 foot depths. Some fish have been taken but no bragging as to hefty stringers.

The cloudy days have been the most productive as they filter that bright sun and offer some relief from a blaring summer sun.

Every day draws fall fishing patterns a little closer!


Also check out our past:
Kentucky Lake Fishing Reports

Steve McCadams is one of the nation's best known Crappie Fishermen and a full time resident of Paris, Tennessee. Steve is also a professional hunting and fishing guide here in the Paris Landing area.