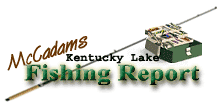 LAKE LEVELS FALL...TEMPS STILL HIGH


Lake levels have been falling slowly this past week and are now back in the normal range for late July and early August. Temperatures, however, were rising this week.

Despite the heat Kentucky Lakeís fishing scene hasnít been all bad for bass and crappie anglers rising early and hitting the water before the midday sun takes over.

Several mornings offered light breezes and cloud cover that delivered pretty nice fishing conditions.

After sleeping at above normal elevation for about two weeks the reservoir is back down as TVA has had a gradual drawdown underway. Projections for the weekend will be 357.9 at Kentucky Dam and also upstream at New Johnsonville.

Those readings are down about a foot from last week at this time.

Water color has been good for fishing. Surface temperatures peaked last Tuesday at 91.7 on my Lowrance sonar unit. Most days had been starting out around 87 and climbing to 89 but two or three days of back to back heat pushed surface temps to the highest reading thus far this year.

Crappie were hitting decent along the deep sides of main lake ledges for a few days. A slight current seemed to benefit the bite but later in the week activity subsided once lake levels stabilized and current diminished.

Depths of 18 to 23 feet were giving up some crappie when deep structure was located.

Bottom bumping rigs loaded with live shiner minnows worked well at times. And, a few fish remained in deeper stake beds where anglers were picking off some in the 13 to 15 foot depth range while vertical fishing jigs tipped with Berkley power bait in the chartreuse color. Tipping jigs with minnows also produced at times.

Strikes have been light, which is not unusual for summer crappie.

Catfish activity has been fair with a few boats working the down current sides of bridge piers in the Paris Landing area. Some anglers continue to target the edge of the main river channel bank in depths of 25 to 35 feet with mediocre results.

Bass have been taken around shallow grass mats, boat houses and docks where schools of pin minnows are attracting fish. Lower lake levels this week have exposed more grassbeds along the main river and around island rims.

A few anglers are tossing weedless frogs and fluke style baits and also working the holes or parameters with Texas rigged worms, craws and Gitzit style skirted baits.

Ledge fishermen continue to target main lake drop-offs with big deep diving crankbaits, jig and craw combos, Texas rigged worms and spoons. The ledge bite has been sluggish but may improve some now that lake levels have returned to normal and pulled some shallow bass back out of bays and shoreline habitat that had been appealing.

Most are reporting the bite is best in the first two hours of the morning as once the bright sun enters the picture activity falls off.


Also check out our past:
Kentucky Lake Fishing Reports

Steve McCadams is one of the nation's best known Crappie Fishermen and a full time resident of Paris, Tennessee. Steve is also a professional hunting and fishing guide here in the Paris Landing area.