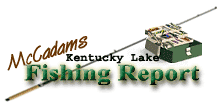 FISHING ON UPSWING

Kentucky Lake's fishing scene chalked up a pretty good report this week as a wide variety of anglers were sporting big grins.

The week got started on a rather hot note with above average temperatures and stagnant winds heating things up a bit. At midweek a dab of cool weather courtesy of north winds cooled things off and lowered the humidity, putting a little touch of all in the air at midweek.

Looks like summer will return with a vengeance by this weekend, however, as temps are forecast to reach the mid 90's. Better keep the water jug close at hand.

Surface temperatures are in the 80 to 82 degree range. Water color is clear across the reservoir except for some isolated areas where wind has churned up sediments.

Lake levels have been falling slowly this week, creating enough current in the main Tennessee River area to stimulate activity for bass and some crappie fishermen.

Crappie action improved this week as decent stringers were taken in 9 to 13 foot depths. Most fish are favoring a live minnow presentation over a plain jig. A few anglers are tipping a jig with a minnow and catching fish but no doubt live minnows are paying the highest dividends.

June has traditionally been a good month for crappie on Kentucky Lake. Those cold fronts and nasty winds are gone and the fish seem to transition toward structure and reside in the midrange depths for several weeks running.

Mayfly hatches began earlier this week in the Paris Landing area. The first hatch was observed on Tuesday with several flies cling to shoreline trees and bushes. It wasn't a massive hatch but enough to arouse the interest of a few hungry panfish.

Bass fishermen had a good week working main lake ledges. Hefty stringers were taken by anglers finding some schools on drop-offs and playing the current. Big deep diving crankbaits and swim baits have produced as have some jig and craw combos and Texas rigged worms.

Various shad colors are appealing to bass as the fish chase shad over midrange sandbars. There have been several 20 pound stringers taken this week by ledge fishermen.

Bluegill were still biting but not as concentrated on bedding areas as they were last week. There's still several lingering around deeper bedding areas in the 4 to 7 foot depths.

Catfish are still biting too and showing signs of moving back out toward midrange depths this week. Crappie fishermen are tying into them on a regular basis when they work deep structure with live minnows.

As mid-June rolls around the overall fishing scene appears to be productive for several type anglers. From bluegill to bass, you can get a bite on whatever every species you desire to target.

Toss a little more ice in the drink cooler and get an early start.


Also check out our past:
Kentucky Lake Fishing Reports

Steve McCadams is one of the nation's best known Crappie Fishermen and a full time resident of Paris, Tennessee. Steve is also a professional hunting and fishing guide here in the Paris Landing area.