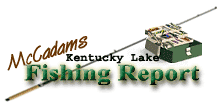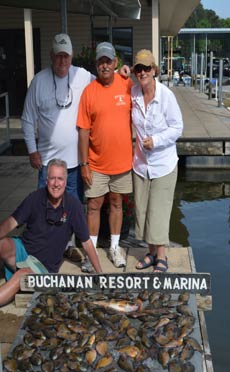 Kentucky Lake Guide Andy Hicks

JUNE FISHING SCENE

Kentucky Lakeís fishing scene has been a good one this week but it got started off on a strange note. Fall like conditions kicked the month off as below average temperatures really felt more like late October than early June.

Fishermen donned long sleeve shirts and jackets at the beginning of the week but have traded them in on sunscreen as the weekend approaches.

Anglers enjoyed a pretty good week overall as hefty stringers of bass, crappie, bluegill and catfish have been taken.

Lake levels have been above normal summer pool for the last week to ten days but the elevation is falling slowly. Projections for the weekend indicate levels will be in the 359.6 range at Kentucky Dam this weekend and 359.3 upstream at New Johnsonville. By early next week look for the reservoir to rest at normal summer pool, which is 359.

Surface temperatures were somewhat below average earlier in the week with readings in the 73 to 75 degree range. By this weekend it should climb into the 78 to 80 degree range. Water color is clear in much of Big Sandy but a slight stain is present in West Sandy and throughout the Tennessee River channel itself.

Bass action has been good with most of the big stringers coming from main lake ledges. Hefty five fish stringers weighing in the 26 pound plus range have been required to win tournaments!

The recent Triton Boat Owners tournament out of Paris Landing State Park saw the winning stringer exceed 26 pounds on both days of the two-day event. The first day of the Bassmaster Elite Series on Wednesday of this week had another 26 pounds of fish brought in and it took over 20 pounds of bass just to make the top 25 ranking!

While a few fish are still being taken in shallow weed beds, buck bushes and treelaps by anglers tossing spinnerbaits andTexas rigged worms and craws, the majority of the heavier stringers are coming from depths of 10 to 15 feet along drop-offs and humps.

Ledges along the edge of the main river channel or sloughs and creek channels at the mouth of big bays have paid dividends lately. Those out on the main lake areas have benefitted from slow current this week as well.

Popular lure choices have been big swim baits, jig and craw combos, huge crankbaits, 10-inch Texas rigged worms or similar variations.

June crappie fishing has gotten off to a good start. Some decent stringers were taken in 13 to 16 foot depths this week by anglers vertical fishing jigs and minnow combos over stakebeds. Tipping a jig with chartreuse Berkley crappie nibbles has also paid dividends.

Watch for good crappie action to hold up these next several weeks. The June bite is overlooked by most crappie fishermen.

Catfish were hitting good with a lot of fish still roaming shallow areas. Cooler conditions last week and earlier this week likely kept some catfish shallow but higher lake levels played a role as well.

Some fish will transition toward deeper depths next week as falling lake levels and warmer surface temperatures influence catfish toward a summer pattern.

Bluegill action resumed earlier this week to some degree but the cool front and north winds had a detrimental effect. A few fish did return to bedding areas earlier this week when a full moon returned on Tuesday but activity was not as aggressive as most had hoped for.

A few mayflies hatched last week as well and that pulled a few fish to shallow beds around the shorelines but some of the better catches came from 6 to 7 foot depths and out away from shoreline habitat. Spawning phases will quickly fade to post-spawn in the days ahead as fish scatter and vacate the prime bedding spots that had appealed since early May.

Warmer weather and summer patterns are about to take over and for some species thatís already in the works.

Also check out our past:
Kentucky Lake Fishing Reports

Steve McCadams is one of the nation's best known Crappie Fishermen and a full time resident of Paris, Tennessee. Steve is also a professional hunting and fishing guide here in the Paris Landing area.