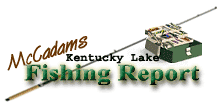 ANGLERS GET REPRIEVE FROM HOT SPELL


Hot and humid weather dominated the Kentucky Lake fishing scene this week but it appears anglers will get a reprieve as the weekend approaches.

Both the temperature and humidity are forecast to fall back to the normal range as temps lately have felt more like August than June. Most days on the lake have been quite tolerable, however, with a light breeze but there have been those days when the wind subsided at midday and when that happens itís another ballgame!

Itís best to get an early start these days and yield to the mid-afternoon sun once itís straight overhead.

Temps are forecast to be about 8 or 10 degrees cooler the next few days. Meanwhile, surface temps this week reflected the unusually hot weather pattern that descended last week as readings were in the 85 to 87 degree range. Thatís a bit high for mid-June.

Water color remains clear despite a few localized thunderstorms at midweek. Lake levels have been falling slowly for several days and the elevation is a bit below summer pool. Readings at Kentucky Dam this weekend will be in the 358.8 range. Upstream at New Johnsonville levels are even lower with forecast of 358.4 throughout the weekend.

Crappie fishing has been pretty good despite the hot weather. Several fish are residing in the 9 to 13 foot range and anglers are chalking up some decent stringers. Although a lot of small fish are still hitting, some keeper size ones have been taken right there with them.

Submerged stakebeds are paying dividends for anglers vertical fishing live minnows and jigs tipped with minnows. June is holding up to its reputation as a good month for crappie fishing here on Kentucky Lake.

Traditionally the fish stage in midrange depths and relate to structure before backing off deeper by mid-summer. With slightly cooler weather coming added with some cloud cover it should produce better fishing conditions in the days ahead.

The bass bite is holding up good too as most of the fish are relating to the main lake ledges or midrange depths where secondary points and submerged sloughs are holding them. A little current this week has worked in favor of ledge fishing too.

Most boats are tossing a jig and pig combo, big 10-inch Texas rigged worm, swim bait or deep diving crankbait to find and catch fish on the drop-offs. Not every ledge has fish on it as the norm is to fish several before finding a school chasing shad or moving up to feed.

Once mayfly hatches enter the fishing picture bass anglers can find several fish moving up shallow to not only feed on the flies but all the other baitfish and forage opportunities that come from the abundance of species that thrive on them too.

A few bluegill were showing scattered signs of late bedding opportunities but most have scattered and roaming as mayfly hatches begin to emerge. A few rare reports have come in from late bedding shellcracker out away from weedbeds in 2 to 4 feet of water.

Several catfish are coming in and a few boats have been jug fishing and catching nice stringers. Most are baiting with nightcrawlers, chicken livers or big minnows. Crappie fishermen are beginning to ty into more catfish too as oleí whiskers have moved offshore to midrange depths.

June continues to produce good fishing for crappie, bass and catfish anglers. Watch for some big mayfly hatches in the days ahead too. Once they occur anglers can find bass and bluegill moving up shallow to take advantage of natureís buffet.


Also check out our past:
Kentucky Lake Fishing Reports

Steve McCadams is one of the nation's best known Crappie Fishermen and a full time resident of Paris, Tennessee. Steve is also a professional hunting and fishing guide here in the Paris Landing area.