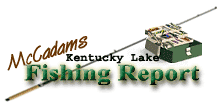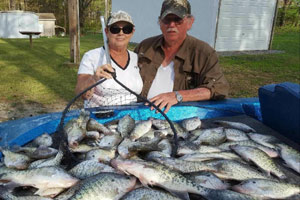 Jane and Tom from TN Spring 2017
Kentucky Lake Crappie Fishing
Crappie Action Guide Service


GOOD FISHING CONTINUES

Kentucky Lake anglers chalked up another good week with bass, crappie and bluegill anglers giving the scene a thumbs up. Several catfish continue to come in too as a few late spawners were still lingering around rocky bluffs.

Surface temperatures have been in the 75 to 76 degree range this week. Watch for readings to increase slightly by the weekend. Water color had a little stain in places but overall it was good for fishing.

Lake levels settled down a bit and have danced around the summer pool levels for several days. TVA's projection for the weekend shows a reading of 359.3 in the Kentucky Dam sector while upstream around New Johnsonville the reservoir is a bit lower at 358.9.

Crappie continue to show improvement as decent stringers were taken this week in the 12 to 14 foot depth range. A few fish were deeper at times but that midrange depth zone is holding some good size fish with increased activity on cloudy days.

Mixed in with several small fish have been some dandies in the one pound plus range. Fish were hitting jigs tipped with minnows while a few boats were doing just fine fishing jigs tipped with Berkley Power Bait crappie nibbles in the white or chartreuse color.

Watch for good stringers to continue from the midrange depth zone for several more weeks. Crappie were showing more interest in structure and holding tight at times around stakebeds and brushpiles. Strikes were light some days but a few slabs were showing up in the creel.

Bluegill and redear were still hitting good too but bluegill were dominating, which is normal for late May. Fish seemed to rebound at midweek, showing more interest in guarding spawning beds than they were last week at this time.

Nice stringers were coming from one to three foot depths. A few good red ear were showing up too around visible weeds or in front of shallow buck bushes. Action should be good this upcoming week as another full moon arrives on June 9, which should see a surge in spawning activity for both bluegill and red ear.

Bluegill often peak in early to mid-May as to active spawning phases but they always make another wave in early June too so take advantage of the action now underway.

Bass fishermen are still finding enough shallow fish to keep them amused. Some weedbeds out from shallow shorelines and a few bushes were holding fish as were some blowdowns on shorelines and river islands. Tossing topwater, spinnerbaits and Texas rigged worms have produced well.

Tournament anglers are throwing everything in the book. From drop-shot rigs to suspending jerk baits; the teams are pulling everything out of the tackle box in hopes of establishing a pattern or finding the right colors.

More boats have been backing off the banks this week in search of deeper patterns. Main lake ledges are beginning to attract some fish as surface temps heat up.

Kentucky Lake's bass fishing scene always seems to have some fish shallow and deep at the same time. However, watch for most of the winning tournament stringers to start coming from hump or ledges out away from shorelines.

Main lake patterns have seen big deep diving crankbaits producing, along with Texas rigged worms, swim baits and Carolina rigged craws and worms.

Catfish were still being caught around rock bluffs and rip-rap levees but it appeared some fish had already spawned and began easing their way back off the banks toward slightly deeper water.

Early summer patterns are already in the making as May lost its place on the calendar and June has now taken over.


Also check out our past:
Kentucky Lake Fishing Reports

Steve McCadams is one of the nation's best known Crappie Fishermen and a full time resident of Paris, Tennessee. Steve is also a professional hunting and fishing guide here in the Paris Landing area.