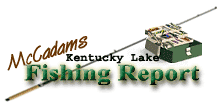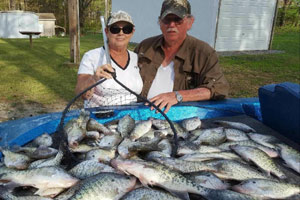 Jane and Tom from TN April 2017
Kentucky Lake Crappie Fishing
Crappie Action Guide Service


CHANGING LAKE LEVELS/WEATHER KEEPS ANGLERS GUESSING


Low water last week; rising fast this week! Warm one day; cold the next! Gale winds at times too! And did I mention annoying rains?

That's how it has been for anglers testing the waters of Kentucky Lake lately as a lot of challenges have kept fishermen guessing as to the whereabouts of their favorite fish.

Spawning phases are underway for bluegill and redear sunfish, known locally as shellcracker. Some dandy stringers have been taken lately but high winds mixed with cool fronts have kept the fish and fishermen off balance at times.

Added to the weird weather has been the fluctuation of lake levels. TVA really had the roller coaster going this week!

TVA pulled the plug last weekend and discharged a massive amount of water for several days but the drawdown ended about as quick as it began. After the rapid drop now comes a rapid rise!

Lake levels were supposed to reach normal summer pool of 359 on May 1 but readings in the Kentucky Dam area were about two feet below that to start the week! The reservoir is now headed back up and rebounding fast with a forecast of a few inches above summer pool the next several days.

Flooding to our north has been a factor as both the Mississippi and Ohio Rivers have been at flood stage. When that happens the U.S. Corps of Engineers dictates what TVA can discharge through Kentucky and Barkley dams.

It appears discharge rates will diminish. Anglers can expect both reservoirs to rise on a daily basis.

The drastic change has really thrown a curve to shallow water bass, bluegill and shellcracker anglers.

The last week to ten days saw lake levels above normal, which inundated shoreline habitat and attracted bass and spawning bluegill and shellcracker to weeds and bushes. That lasted a few days but once TVA jerked the water---an apparent attempt to seize a short window of opportunity to create more storage capacity----the shallow fishing scene changed dramatically.

Presently, lake levels are rebounding fast and could very well repeat the scenario that took place the last week of April. TVA projects an elevation of 359.8 as the weekend begins, which is up more than two feet from the start of the week. Upstream at New Johnsonville lake stages are 357.5 but rising quickly.

Surface temperatures had some influence from cool fronts earlier in the week but are resting in the 69 to 71 degree range. That's a bit below normal for early May. Water color is dingy in some pockets off the main lake where high winds have whipped up sediments but main lake areas remain relatively clear.

Both bluegill and shellcracker were attempting to spawn in shallow weeds and sandy mud flats where some fanning of craters, the little pie-shaped spots where these bronze bombers set up housekeeping, was taking place.

Falling lake levels have the fish confused as they've had to pull back off the banks and change their locales. Several were taken in two to four foot depths the last few days out away from shorelines as the fish scattered.

Watch for another wave of fish to make a blitz this weekend and throughout next week as rising lake stages and warmer weather coincide to push the panfish back shallow.

Veteran bluegill anglers have long thought the first full moon in May signaled prime bedding time. That occurs on May 10, which is Wednesday of next week. The next full moon will be June 9 but expect some good fishing in-between those two peaks.

Crickets, redworms and wax worms have been paying dividends with a few anglers casting ultralight tackle armed with artificial grubs and larva imitations.

A few hefty shellcracker have been taken this week but they've been quite scattered and mixed in with some bluegill beds.

Bass fishermen had a short honeymoon with shallow shoreline habitat and found a few decent stringers relating to grassbeds and buck bushes. Casting floating worms or pitching Texas rigged worms and lizards produced as did jig and pig combos, shallow running crankbaits and spinnerbaits.

Topwater also worked well while the fish surged toward shallow grassbeds. It appears bass anglers will see that pattern repeat itself by this weekend as water is fast returning to shoreline habitat.

Once the water fell away from shallow shoreline structure anglers fished deeper water and targeted points or paralleled shallow banks where bass had moved out and staged in deeper water.

Some anglers found fish near island rims on the main lake where current was a factor.

Everything is changing now that lake levels are bouncing back above normal summer pool. What was too shallow or dry ground earlier this week will now have ample water by the weekend, meaning bass fishermen can go back to pitching and flipping or tossing topwater.

With all the flooding to our north it will be interesting to see just how high both Kentucky and Barkley Lakes rise in the coming days.

Catfish are on the prowl too with all the rising water so watch for some good stringers to come from shallow feeder creeks in the days ahead.


Also check out our past:
Kentucky Lake Fishing Reports

Steve McCadams is one of the nation's best known Crappie Fishermen and a full time resident of Paris, Tennessee. Steve is also a professional hunting and fishing guide here in the Paris Landing area.