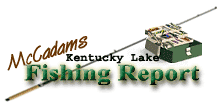 WARM WEATHERíS RETURN HEATS UP FISHING SCENE


Cool weather kicked off the first week of May, chilling the fishing scene for a few days but a rebound is in progress with temps expected to rebound back to the 80 degree range this weekend.

The warm up is music to the ears of bluegill and shellcracker fishermen as the recent cool snap and northwest winds put a temporary chill to the shallow bite that started on a good note late last week. Watch for those powerful panfish to blitz back to active spawning phases quickly as surface temps warm.

At midweek Kentucky Lake had cooled back to the 66 degree range but the warming trend should have a positive influence by this weekend. Surface temps should bounce back into the 72 to 76 degree range soon and that will see a mood swing for these rascals anxious to begin fanning their crater shaped spawning beds.

Some decent stringers were taken this week despite inclimate weather at times. Those cool mornings commanded jackets for anglers and put the fish in a sluggish mood to start the day but afternoon activity picked up for most.

Bluegill and shellcracker enthusiast like to target full moon phases as peak spawning phases can occur at that time.

Although the next full moon doesnít arrive until May 21, look for some good fishing long before then. Those bedding areas are already showing signs of activity and the biological clock is ticking.

Hefty redear sunfish, commonly known as shellcracker, were taken this week by anglers working shallow grass and buck bushes. A few fish were taken out away from shoreline habitat too where shallow sand and gravel type bottoms appealed.

For the next few weeks Kentucky Lake anglers should experience some great times courtesy of these bedding bluegill and shellcracker. Donít let this special phase of fishing pass you by.

The catfish bite has been good this week too as dandy stringers were taken in shallow areas as the fish continue to move up to their spawning areas too. Bluegill and shellcracker anglers casting the two to four foot depths have tied into some dandies this week making for a nice surprise.

Tying into tackle testing catfish is pretty common these days. Best to keep the dip net handy and loosen the drag on the light reels. Just hold on and enjoy the ride once a big cat slams that cricket or worm.

Catfish love to prowl those shallow spawning beds when panfish fry start to hatch. And, often times catfish will spawn around some bushes and grass too if submerged logs or roots are present. Rocky banks are their areas of choice but the shallow pockets are popular too.

Rock bluffs and similar type shorelines will continue to produce catfish these next two weeks. Nightcrawlers have been the bait of choice but chicken livers, shrimp, leeches and some commercial stink baits will produce too.

Crappie are in their typical post-spawn pattern, which means scattered and somewhat lethargic for most anglers. However, a few fish were taken this week in the 13 foot depth range around the Paris Landing sector as anglers vertical fished jigs around submerged stakebeds and brushpiles.

A few boats continue to implement the long-line techniques and pull curly tail grubs and Road Runner style jigs over main lake areas with moderate results. Others are holding on to casting jigs over midrange structure and finding a few fish in the 8 to 13 foot depth range but big numbers have not been the norm.

Bass fishing has had mixed results with a sluggish bite at midweek when the cold fronts descended. Prior to that some shallow fish were taken around buck bushes and grassbeds by anglers pitching and flipping jig and craw combos, Texas rigged craws and jig and pig offerings.

Several boats were working shallow grass with spinnerbaits and floating fluke style worms or topwater jerk baits.

At the same time a contingent of anglers are backing off the banks and attempting to find those post-spawning fish enroute to deeper areas. That bite has been inconsistent but will improve each week.

Swim baits and crankbaits on deeper flats have produced at times, however. Several small bass have been taken in shallow grass beds but there appear to be a few last spawning bass lingering around bushes and grass, especially if some dingy water is present.

Lake levels are staying around the summer pool elevation this week. Projections for the weekend indicated a level of 359.2 at Kentucky Dam and 359.1 upstream around the New Johnsonville sector. Thatís similar to last week at this time as the reservoir has been relatively stable this week.

Water color is clear across most of the region with a few bays and islands harboring a slight stain due to wind action.

It appears nice weather and stability will greet anglers these next few days.


SHELLCRACKER/BLUEGILL BEDDING TIME NEARS


Transition time is at hand for Kentucky Lake anglers as spawning time nears for two popular panfish that really pack a punch.

Bass are still biting and a few crappie are coming in too but itís these rusty bull bluegill that are getting the attention of anglers all across the reservoir, not to mention the olive drab giants commonly referred to as shellcracker.

Biologically speaking the shellcracker are known as red ear sunfish. Bream is the common term used throughout the south when referring to bluegill. Whatever name you choose the common denominator among the ranks of these powerful panfish is a feisty attitude with a never ending appetite.

Theyíre fun to catch and good to eat.

Every year when April fades to May sees the early spawning phases of shellcracker kick in. Generally speaking, shellcracker begin a week or ten days prior to bluegill. Surface temperature plays a big role as to the biological clock. So does length of day.

May sees peak spawning time kick in for both these popular species here on Kentucky Lake and it appears the timetable is about on schedule despite a most unusual spring. Warm days lately have boosted surface temperatures up into the 72 to 76 degree range.

A few hefty shellcracker were taken this week across the reservoir where anglers are working the shallow buck bushes and grassbeds in the backs of bays and small pockets off the main lake area. Lake levels have been ahead of schedule the last week or two and already resting at the summer pool mark.

Summer pool elevation puts water around the shallow shoreline habitat and that provides enough cover to attract shellcracker who love to spawn around shallow shorelines where a combination of grass and bushes exist. Sometimes they occupy a submerged log or take advantage of a blown down tree that fell out into the lake.

Bluegill often mix and mingle in the same areas yet bluegill are more opportunists and will fan their craters in open gravel or a mud bottom. They may choose an area around bushes and grass too but the shellcracker have a reputation of being a bit more finicky.

Shellcracker are illusive and downright timid at times. They spook easily in clear water and wonít tolerate a lot of excess noise and disturbance.

Although there are similarities between the two, shellcracker can be peculiar as to their bait choices. They sometimes take a cricket when competing with bluegill in the same area but often times their bait of choice is a red worm, wax or meal worm or small larva style bait.

Presentations differ at times too. Bluegill will smack just about any similar bait cast their direction or depth range whereas shellcracker usually prefer a bait on or near the bottom. Perhaps itís their normal feeding habits of sucking freshwater mussel type morsels off the lake bottom.

Often times boaters experience higher catch rates when laying back off the banks or spots and casting with ultra-light or light spinning tackle. Anchoring the boat away from the bedding areas works best, although some illusive fishermen use small aluminum boats and quietly scull along the parameters with long telescopic poles for pinpoint bait presentations.

Sometimes shellcracker and bluegill occupy a spot thatís not easy to reach. Casting into a very small pocket with a little wind present is a recipe for disaster. Snags and bushes love to test your tackle long before the fish get a chance to.

Thatís why keeping ample amounts of terminal tackle on hand is pretty much mandatory. Expect to tie on a few hooks and rerig several times during the course of a day. It just comes with the territory.

Keeping a pair of long nose pliers in your arsenal is a must as well. Youíll need them to extract swallowed hooks or crimp split-shot sinkers when rigging tackle. And a hand towel should be on the list too.

Bobbers are popular for regulating depth, especially for bluegill. They are excellent indicators of light strikes too, not to mention the thrill of seeing it disappear at the blink of an eye.

Yet some shellcracker enthusiasts choose to crawl their small bait presentations along the bottom without bobbers or even fish a bait on telescopic poles utilizing a tightline technique. Others might use a bobber but still set the bait deep and on the bottom after establishing that perfect balance without too much excess line dragging.

When fishing very shallow water veteran anglers opt for natural cork type bobbers as colorful plastic or foam ones can scare finicky fish as they enter the area and disrupt the placid paradise. Sometimes you canít be too coy in shallows while other times, when wind is present or deeper depths are paying dividends, you can get away with just about anything racket or carelessness.

Active bedding areas can be quite forgiving. The fish are determined to occupy and protect the beds. Spawning dominates their whole attitude so the fish sometimes let their guard down.

As May enters the fishing scene along Kentucky Lake comes peak time for these two popular panfish that are sure to bring a smile.

Their fight to the finish attitude brings out the kid in all of us as poles bend, bobbers disappear and for a few short hours we revisit youth, returning to the shady creek banks of life where the only worry was whether the bait would hold out and who would clean the fish?

Make plans to partake of this great fishing phase and introduce someone else to the sport while youíre at it! Itís a great entry level time. Odds are if you hit the recall button youíll remember your first fishing trip and fond memory came courtesy of some bluegill or shellcracker somewhere.

Would I be right on that?


Also check out our past:
Kentucky Lake Fishing Reports

Steve McCadams is one of the nation's best known Crappie Fishermen and a full time resident of Paris, Tennessee. Steve is also a professional hunting and fishing guide here in the Paris Landing area.