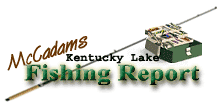 WARM DAYS DOMINATE FISHING SCENE

It seems summer weather took command this week for Kentucky Lake anglers as temps climbed into the mid 80ís. The heat and humidity spawned thunderstorms at midweek and sent boaters rushing back to docks seeking shelter from the lightning, rain and wind.

Surface temperatures this week climbed to the 73 to 75 degree range, the highest mark since spring arrived. Water color has been relatively clear with some dingy water entering the picture Wednesday afternoon in the aftermath of severe thunderstorms that packed quite a punch.

Lake levels are up slightly this week with elevation projected for the weekend to be in the 359.3 range at Kentucky Dam. Upstream in the New Johnsonville area readings will be in the 359.1 range. Normal summer pool is 359 so the reservoir hasnít changed much from the previous week.

Bass fishing has been fair this week with a combination of depths and patterns working. A few anglers continue to pound shallow shoreline weedbeds and some bushes and willows. Island rims with grassbeds are holding a few fish too.

The shallow bite has been decent for anglers tossing spinnerbaits, Texas rigged craws and worms, buzzbaits and assorted topwater jerkbaits.

Several boats are targeting ledges and backing off the banks in search of post-spawn fish that are slowly working their way toward main lake venues. Warmer surface temperatures this week should see the ledge bite improve, especially when current is present.

Already producing are the big deep diving crankbaits, swim baits, Carolina and Alabama rigs, jig and pig combos and huge Texas rigged worms.

For most main lake area fishermen schools of bass have not been found on a consistent basis. As warmer days dominate that bite could change for the better.

Bluegill and shellcracker anglers continue to enjoy success as the bite has been good. There were a few days when some of the larger bluegill and shellcracker played hide and seek but overall the action has been good.

Surface temps have heated up and active spawning phases continue. Most of the better bluegill have been taken out away from shallow shorelines lately. Seems the fish are opting to fan beds in a bit deeper water and clear conditions may be contributing to that. The unusual cool snaps earlier in the month may have contributed as well.

Some nice shellcracker were showing up from 4 to 7 foot depths. Big numbers have not been taken but there have been some big size ones!

Look for the magic to continue for another week or two before bedding phases start tapering off.

Crappie remain scattered and finicky, although a few fish have been taken in 5 to 10 foot structure. A few bigger fish were caught in 12 to 14 foot depths this week but it was a one-here, one there pattern.

Stakebeds in the 10 to 13 foot range were holding a lot of small fish this week.

Itís not unusual to see crappie scattered in the post-spawn phases as theyíre somewhat stressed from the spawn and often suspend and roam for a spell. By early June the warmer surface temperatures influence the fish to return to structure and park in midrange depths for several weeks, which works to the advantage of anglers.

Catfish are hitting good too and nice stringers are coming from shallow areas as the fish roam and deposit eggs in shallow pockets off the main lake. Nice ones are slamming the hooks of bluegill anglers working light tackle baited with crickets as the fish prowl around the craters spawning bluegill.

Shallow rock bluffs are still paying off as are rip-rap levee area or shorelines where the fish can find crevices to lay their eggs.

It has been a pretty good week for most anglers despite having to dodge a storm or two.

Also check out our past:
Kentucky Lake Fishing Reports

Steve McCadams is one of the nation's best known Crappie Fishermen and a full time resident of Paris, Tennessee. Steve is also a professional hunting and fishing guide here in the Paris Landing area.