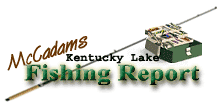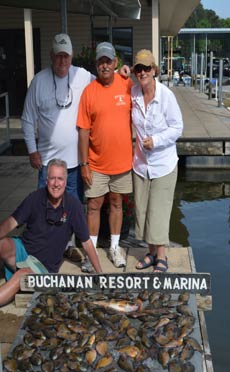 Kentucky Lake Guide Andy Hicks

CATFISH/BLUEGILL/BASS BITE HOLDING UP WELL


Despite a cool snap and several rainy days, Kentucky Lake's fishing scene has held up well this week.

Last weekend the rainy season returned and drenched fishermen for a few days. In the aftermath of those heavy rains lake levels on the big pond swelled a bit and were a foot above normal summer pool at midweek before the crest occurred.

As the weekend approaches lake levels will begin to fall slowly as TVA pulls the reservoir back down to the normal summer pool elevation of 359. Readings this week topped out at 360 at Kentucky Dam at midweek.

Projections for Kentucky Dam this weekend show an elevation of 359.8 and 359.7 upstream at New Johnsonville. Anglers can expect a slow fall to continue for the next few days.

Surface temperatures have been a bit below average this week due to some cool, north winds. Readings were in the 72 to 74 degrees at midweek. Weather is predicted to moderate in the next few days with a return to the 80 degree range. Water temps will warm slightly throughout the weekend.

Water color has been clear across most of the reservoir with a slight stain found in the upper ends of some bays where feeder creeks have delivered recent runoff.

Bass have been hitting pretty good as the rising lake levels earlier in the week inundated shallow shoreline habitat and increased activity around buck bushes and visible weedbeds. From Texas rigged worms to spinnerbaits, buzzbaits and floating fluke style worms, the shallow bite has held up well for a variety of lure presentations.

Fish have been aggressive and several fish have also been taken around gravel banks near pockets or feeder creeks too. There are a lot of bait fish in the shallow areas as bluegill are abundant and shad are feasting on schools of tiny fry that have been hatching out the last week to ten days.

That has pulled a lot of bass to shallow areas and that should continue to be productive for quite some time. Islands are holding fish too as pondweed and other aquatics are holding schools of pin minnows around rims.

At the same time several boats are still targeting main lake ledges and that bite will likely improve even more as current enters the picture. A slow drawdown now underway will see more fish relate to drop-offs in the days ahead.

Big swim baits, jig and craw combos, deep diving crankbaits, Texas and Carolina rigs will be popular choices for ledge fishermen.

Crappie have improved and more fish are now relating to structure in the 10 to 14 foot depth zone. Live minnows have been working well or jigs tipped with minnows have been appealing.

Vertical presentations over stakebeds have produced this week but a few boats are trolling crankbaits and finding some suspended fish in depth of 15 to 16 feet out over 20 to 25 foot depths at times.

Watch for crappie action to continue to improve as the fish now have spawning in their rearview mirror. That, coupled with stable weather and lake conditions, will see more fish relate to cover. The late May period and most all of June should be good for crappie.

Hefty stringers of catfish continue to come in this week. Bank fishermen have done well as have boats working the rocky banks, levees and bluffs where fish are moving up to spawn in the crevices.

Good stringers of catfish have also been taken by bluegill fishermen this week as they roam the shallows.

Bluegill and shellcracker continue their spawning phases, although activity diminished at midweek when some cool days and north winds curtailed the bite. By this weekend activity should rebound as fish respond favorably to the warmer surface temperatures.

Good numbers of bluegill were taken in 5 to 7 foot depths earlier this week but both bluegill and shellcracker moved up shallow once rising lake levels put more water around grass and bushes. Anglers can expect action to hold up well next week and another full moon will arrive on June 2, which should see a late wave of spawning activity resume.

Some of the better bluegill beds may well be back off the banks as normal lake levels return.

The overall fishing scene has been good this week with a short hiatus when fall like weather slipped in the door. Time to shed the long sleeves and get the sunscreen back out!

Also check out our past:
Kentucky Lake Fishing Reports

Steve McCadams is one of the nation's best known Crappie Fishermen and a full time resident of Paris, Tennessee. Steve is also a professional hunting and fishing guide here in the Paris Landing area.