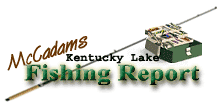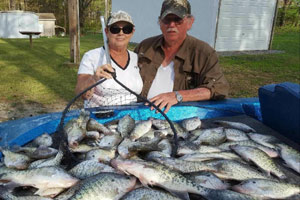 Jane and Tom from TN Spring 2017
Kentucky Lake Crappie Fishing
Crappie Action Guide Service


FISHING ENTHUSIASM RISES AS LAKE LEVELS FALL


A lot has changed for Kentucky Lake anglers since last week at this time and most of it appears to be for the better.

After cresting almost 4 Ĺ feet above normal summer pool late last week the reservoir has been falling daily and should be back to normal by this weekend. It has been a wild ride at times.

TVA projects a reading of 359 at Kentucky Dam by this weekend and it will be similar upstream at New Johnsonville.

Surface temperatures climbed to the 75 to 79 degree range the last few days. Water color is pretty good across the reservoir with a little stain present in some pockets.

Fishing has held up well despite changing lake levels this week for bass, bluegill, crappie and catfishermen who have logged some nice stringers from shallow shoreline habitat.

Spawning phases are still underway for bluegill and the bulls are really guarding the nesting areas, which spells great action for panfishermen. The rusty rascals have been quite territorial the last few days as warmer surface temperatures help stimulate the bite.

When active spawning phases are underway, the darker adult males guard the craters where bluegill fan the sandy, gravel bottom. Anything entering their comfort zone gets a quick response and that means fast action for anglers as bobbers disappear in the blink of an eye.

Bluegill have pulled away from some very shallow spots this week in response to the falling lake stages. Most are holding in two to three foot depths out away from bushes. A few deeper beds are paying off too as some fish are backing off the banks and fanning beds in 7 to 8 foot depths.

Not as many shellcracker are showing up this week as they were earlier in the month but there are still a few mixed in at times with some bluegill. Crickets, redworms and wax worms have been paying dividends as most folks are casting ultra-light rigs toward the bedding areas, anchoring their boats out away from the submerged beds.

Anglers can expect the action to hold up for another couple of weeks and perhaps even longer. The next full moon is June 9, which should see another surge in spawning activity but donít wait that long as action is pretty doggone good right now!

While most are casting slip bobbers on light tackle a few anglers are tossing an artificial larva or grub without a bobber and just slowly dragging the bait across the bedding zones. Itís a deadly presentation at times!

Bass fishermen had a good week as fish really blitzed toward the abundance of buck bushes, willow trees and submerged grassbeds. Spinnerbaits, Texas rigged worms and craws, jig and pig combos and topwater have worked well.

Some bass anglers probably wished the water had stayed up a bit above summer pool. They loved it when an abundance visible structure awaited them.

Falling lake stages pulled most of the bass to outside structure lines the last few days. Thatís helped establish patterns for several anglers who were battling too much water last week at this time.

Crappie activity rebounded some this week too. A few boats saw their catches improve while working 12 to 14 foot depths. Most credited minnows as the bait of choice. A few anglers tipped jigs with minnows.

Although still somewhat scattered the receding lake levels will help pull meandering post-spawn crappie back to a more structure oriented mood in the days ahead. That should work in favor of crappie anglers who target structure in the midrange depth venues.

Most boats were either vertical fishing over structure or slowly pushing their spider rig style setups throughout the midrange depth zones and searching for some cover.

Post-spawn crappie will scattered for a couple of weeks due to the stress of the annual ritual but they slowly start returning to cover in the midrange depths and will stay there through late June and early July. Watch for the crappie bite to continue to improve in the weeks ahead.

Catfish continue to prowl around shallow buck bushes and shallow flats in the backs of pockets and bays off the main lake as they search for spawning spots.

They really went on a rampage last week and this week too as bluegill anglers working the shallow shorelines tied into some dandies on a regular basis. Often times the catfish feed off the bluegill fry as they emerge off spawning beds as to several other species.

Rocky banks and roadbeds should be holding catfish throughout next week as will steep bluffs. Catfish are searching for those submerged crevices in which to spawn. The bite should continue to hold up well for another week or two.

The weather has warmed and stabilized. Birds are whistling and fish are biting. Perhaps all the crazy wind and lake levels have finally settled down. You best hit the water and take advantage of it!


Also check out our past:
Kentucky Lake Fishing Reports

Steve McCadams is one of the nation's best known Crappie Fishermen and a full time resident of Paris, Tennessee. Steve is also a professional hunting and fishing guide here in the Paris Landing area.