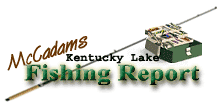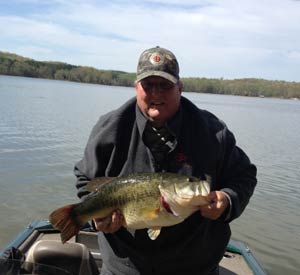 Ray Boucher 11 lb. 7oz
Fish was weighed and released


HIGH WATER/LOW TEMPS CHALLENGE ANGLERS…BETTER DAYS AHEAD



What do you get when you mix high water, high winds and cold temperatures? Answer: pretty tough fishing conditions.

After a weird week anglers are yearning for a return to normalcy. Lake levels have jumped more than two and a half feet since last week at this time and that alone can change the fishing patterns. Added to the hurdle have been cold, gusty winds and below average temperatures.

Floating debris was all over the lake at midweek, adding hurdles for both fishermen and boaters. High water was also having an adverse effect at some boat ramps, campgrounds and other low lying areas. However, TVA's forecast indicates the reservoir crested on Thursday and has begun a slow descent.

Lake levels on Wednesday rose to an elevation of 361.6 at Kentucky Dam and 361.9 upstream at New Johnsonville before cresting. Normal summer pool of 359 isn't projected until May 1 each year.

Projections for the weekend show 361.4 at the dam and 361.6 at New Johnsonville. TVA will likely pull the plug and accelerate the drawdown in the days ahead.

Surface temperatures this week actually lost ground due to the cold front. Readings at midweek were in the 65 to 67 degree range. Water color was dingy in the upper end of Big Sandy and stained in the backs of some larger bays from recent rains but quite clear in the mouth of Big Sandy and up toward the power lines area.

Bass fishermen have benefited this week from rising lake levels, at least to some degree. Shoreline habitat that was high and dry or too shallow to fish last week at this time is now inundated with water. Buck bushes, willow trees and weed beds have ample water and fish were moving up fast to new shallow buffets.

Fishermen were reacting to the changing lake levels and altering their patterns on a daily basis. Shallow cover quickly became appealing and anglers were pitching and flipping jig and craw combos, Texas rigged lizards and worms or tossing spinnerbaits and buzzbaits.

No doubt some topwater presentations will become popular by this weekend as well. A few anglers are playing the current and working crankbaits around bridge piers, rip-rap, and island rims.

Falling lake levels in the days ahead should pull bass back to the outside bushes and grassbed lines. Look for bass to retreat slightly to vantage points near deeper water or the edges of feeder creeks and steeper banks.

Crappie are on the backside of peak spawning phases and most anglers saw numbers diminish the last few days, due in part to nasty winds, falling temperatures, rising lake levels and post-spawn mood swings.

A few good size fish were still coming in and most of the females had lost their bulky appearance compared to last week, a sign they had already dropped eggs. There are a few still sporting eggs but most did their thing last week, although the blitz wasn't as dramatic as most anglers had hoped for.

The Paris Landing sector and portions of Big Sandy and West Sandy had some decent stringers taken last week but other areas of the reservoir from the Kentucky portion down to Birdsong and further south toward Interstate 40 bridge have reported very low numbers of crappie this spring.

A few boaters fishing manmade fish attractors are landing scattered fish in depths of 12 to 15 feet with some stragglers in the 8 to 11 foot zone. It's not unusual for crappie to scatter when dramatic changes in lake levels coincide with post-spawn phases.

With the high water comes hope from some anglers that a few fish will move up into buck bushes in the backs of bays. It's highly possible some crappie will venture to visible stickups but unlikely a mass exodus will occur.

Techniques such as long lining and spider rigging fell victim to some degree to the rising water as trash in the form of sticks, leaves and grass prohibited effective presentations this week. Casting shorelines has not fared well either but that could improve as fish move up to grassbeds and shoreline habitat in pursuit of baitfish.

Bluegill and shellcracker should kick in soon as it is time for their early spawning phase to begin. No doubt the cool weather this week will push that timetable back a bit. Surface temps need to be in the 72 to 75 degree range to kickstart active fanning. Watch for a surge in activity once sunny days return.

Catfish have been on the prowl as some nice ones were taken this week in shallow water. They always move up quickly when significant changes occur in lake levels and this week they've done just that. Some nice stringers are being caught in two to three feet of water.

This spring's roller coaster ride continues for Kentucky Lake anglers as yet another week of unstable conditions challenged all anglers but better days are on the horizon. Temps are expected to rebound into the low 70's this weekend.


Also check out our past:
Kentucky Lake Fishing Reports

Steve McCadams is one of the nation's best known Crappie Fishermen and a full time resident of Paris, Tennessee. Steve is also a professional hunting and fishing guide here in the Paris Landing area.