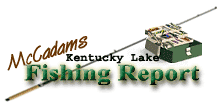 MARCH MADNESS FOR ANGLERS…WARM DAYS AHEAD


Spring is less than three weeks away. It officially arrives March 20th so that ought to make anglers feel pretty good just knowing it's close at hand.

Kentucky Lake anglers know the Ides of March can dictate where and how you fish the big pond. Wind is always a factor but never more so than during the month of March.

This week has been a prime example. Warm weather is in the forecast as the weekend approaches and that will stimulate activity among the ranks in the aftermath of a midweek cold front that kept most fishermen indoors.

Last weekend had some warm but windy days. Monday was great; above average temps reached the mid 60's and virtually no wind. A cold front entered the picture Tuesday with some northwest wind so anglers had to regroup and ride out a few chilly days as they wait for the approaching reprieve.

Looks like temps will rebound to the low 60's again this weekend paving the way for some nice fishing conditions if the wind holds off. By the middle of next week the extended warm spell will see temps jump into the 70 degree range! Both bass and crappie anglers should benefit when those warmer days arrive.

Surface temperatures started the week off in the 48 degree range and climbed to the low 50's thanks to Monday afternoon's warm sunshine. The midweek cool snap robbed a few degrees but watch for a rebound to the low 50's this weekend.

Water color is quite stained across most of the reservoir as a combination of runoff from recent rains and some high winds stirred things up. However, the water color isn't too muddy to fish.

Lake levels are projected to be in the 355.3 the next few days at Kentucky Dam. Upstream in the New Johnsonville sector there is a difference of two feet as elevation there is 357.3. The difference indicates a significant amount of current in the main Tennessee River channel.

Normal winter pool is 355 so TVA is pulling a lot of water through Kentucky Dam this week in an attempt to get the reservoir back to normal levels upstream. Expect current to continue for several more days in the main river area.

Crappie anglers are finding some scattered fish along main lake ledges in the 19 foot depth zone. Most fishermen reported several small fish were taken with a few bigger slabs mixed in at times. However, not many fish were taken in the mid-size range as it appeared the catch was comprised of mostly small fish below the 10-inch minimum.

Tightlining minnows produced a few fish but the bulk were hitting jigs tipped with either minnows or Berkley crappie nibbles in the pink or chartreuse color. Florescent green, orange or red leadheads seemed to have more appeal in the dingy water color as well.

Some boats were working midrange stakebeds and brushpiles in the 9 to 12 foot zone in the Paris Landing sector but numbers were low. Most were vertical fishing jigs in the pink/chartreuse and fluorescent green/orange color categories.

Bass fishermen have logged some decent catches lately on the sunny days as some fish were taken on shallow gravel banks and points in the upper ends of bays. Crawfish colored crankbaits have produced as have some loud colors such as firetiger, orange/chartreuse and red/orange.

Other anglers are backing off the banks and working humps and ledges with Strike King's Red Eye Shad series style baits, assorted swim baits and some deep diving crankbaits. Jig and craw combos have also worked as have some Carolina and Alabama rigs.

A few anglers are still finding deeper bass off ledges once they locate meandering schools of shad. Watch for the shallow bite to improve this weekend once surface temps rebound into the low 50's.

March has a reputation of being a great crankbait month here on the abundant gravel banks and mud sandbars as bass stage but move up quickly when warm weather descends. And, some of the year's biggest bass are taken throughout March as those hefty females put on the feedbag as prespawn phases draw closer.

The typical weather pattern seems to deliver two or three days of moderate to warm weather each week with the other days commanding an overcoat or raincoat. Odds are the weather roller coaster will continue for a spell so enjoy those nice warm days and calm winds whenever they're in the forecast.

March madness is here!


Also check out our past:
Kentucky Lake Fishing Reports

Steve McCadams is one of the nation's best known Crappie Fishermen and a full time resident of Paris, Tennessee. Steve is also a professional hunting and fishing guide here in the Paris Landing area.